Inside the Big Red we noticed that the steering wheel was very comfortable and angled well, more like a car than a utility vehicle or tractor. Despite being a fixed position wheel, we really had no complaints.
| | |
| --- | --- |
| | |
| Although the steering wheel does not tilt it still is comfortable to operate | The Honda Big Red uses a dial knob that is used to turn on the headlights |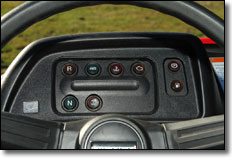 The Big Red uses indicator lights instead of a digital dash, but can be purchased aftermarket direct from Honda
The controls of the Big Red are like that of a car with a dial control light switch for high and low beam headlights. There are gear indicators inside the cockpit, but we were a little disappointed to find that there were no other gauges or readouts, besides a gas indicator, to keep track of mileage or hours of use, which is a handy tool for any farmers or construction sites that keep track of miles and usage for maintenance reasons.
Honda does offer an aftermarket digital meter kit, but this is something we hope Honda will take into consideration and incorporate as a stock feature in future models.
| | |
| --- | --- |
| | |
| The Big Red features a large bench that is very comfortable for two people | Cup Holders are located on each side of the Honda Big Red 700 MUV |
The inside of the Big Red is equipped with a contoured bench seat, cup holders that are placed on the left side and up higher up so they are not in the way. The Parking break is in the center and is very easy to access and use as it is just like that of a car.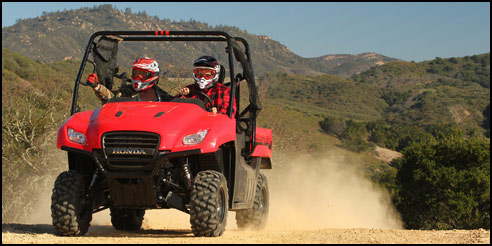 The Honda Big Red 700 MUV has many safety features including a ROPS approved roll cage, cage netting, doors, & incab safety handles
The inside hand-holds are very safety oriented and designed to keep the passengers hands inside the vehicle. We felt the seat belts were a little rough and could use a bit more flexibility to them, but overall they worked well.
Honda offers a wide selection of aftermarket parts for the Big Red including a 4,000lb. Warn Wench, wind screens, cargo bed storage boxes and host of other goodies to customize your Big Red for whatever kind of work you need it for.
Overall we were impressed by the work capabilities that the Big Red has to offer. It is well suited for job sites and farming uses as well as some hunting and off-road application. With Honda's exceptional reliability and outstanding reputation for quality, it is no wonder the Big Red is a top choice in work oriented Multi-Use Vehicles.