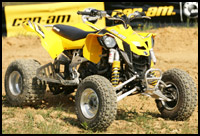 2008 CanAm DS450
Greeneville, TN -
We are currently in a new era of ATV racing. The popularity of competition ATV's has elevated factory involvement and support to the highest level ever. The demand is there, and the manufacturers know it. The big four have been controlling the technological advancement of racing ATV's since the 80's, only making enough improvements to keep the market going. Consequently, their two-wheeled machines have progressed to the point where you can buy a competitive bike off the showroom floor and race it with only minor modifications, whereas the quads offered require a substantial investment to be competitive. Without a serious threat to the all-Japan market, ATV's would be doomed to wallow in a low-tech world.
Enter the 2008 Can-Am DS450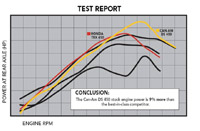 Horse Power Comparsion Chart
The DS450 is not a redesign of an existing machine. The design of this quad was done from the ground up by a group of engineers starting with a clean slate. Each part was reevaluated, and if there was a better way to do it, it was done. The result is a machine that has more radical design changes than any ATV since they decided to add another tire onto the three wheelers. The fuel injected Rotax engine is based on technology developed with World Championship caliber four stroke road race engines. The intake valves, bore, and throttle body are the largest of all the Sport 450's, and the potential to modify the engine is massive. This powerplant was designed with the capability to be modified far past its already class-dominating performance level.
The CanAm DS450 Powerplant is a Rotax 4-TEC 450 EFI Engine with the top end based on the Aprilia RSV 1000 R sportbike with its free-flow intake design with dual sparks plugs. The piston bore, intake valves, and throttle body is the largest among the 450cc Sport ATVs.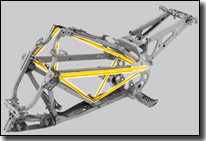 Altec aluminum frame with its dual-pyramidal frame design
The chassis of the DS450 utilizes construction techniques previously unheard of in the industry. The aluminum frame is a combination of cast, extruded, and stamped pieces joined with aerospace-grade fasteners that eliminate any strength-reducing welds. You heard it right, a frame with no welds at all. Parts of the frame are removable for servicing, and sections can be replaced and reattached with conventional fasteners to get the machine back on the track in an emergency. The dual-pyramidal frame design is exceptionally strong, and the designers were able to fine-tune the structure without the guesswork of weld-area weakness, resulting in the lightest frame in its class. The frame weight helps put the DS450 at 345 lbs dry, which is lighter than all other 450's with or without EFI.
The CanAm DS450 Altec aluminum frame utilizes an aluminum lock-bolt fastener system along with conventional nuts and bolts to connect the forged and stamped aluminum frame components instead of a conventional welding method