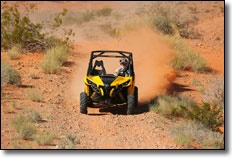 The 2013 Can-Am Maverick is well capable of traveling over 60 miles per hour in stock form
While on the trail we got the Maverick to around 60 miles per hour. We feel it has more to give, but with the tight turns and deep ruts along the trail we couldn't risk going any faster. We think that with more open space you would be able to hit some higher speeds. The low gear on the machine is vital for crawling over rocks and obstacles. The rev-limiter kicks in around 35 miles per hour, but in most cases low gear is only used at slow speeds for tackling tough terrain.
The 101 horsepower Rotax V-Twin engine not only ran great but also sounded good! The machine produced a real throaty sound. It sounds aggressive and gives a nice performance sound. Piplic thought the machine was louder than he expected and made it a little hard to chat with the passenger; however, overall the noise wasn't really an issue.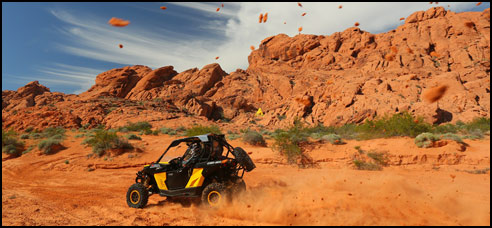 The 2013 Can-Am Maverick SxS is well rounded machine & was a lot of fun on the trails
We thoroughly enjoyed testing both the Can-Am Maverick 1000R and 1000R X rs. Overall, we feel that the Maverick 1000R is a great machine for the base line model. It gives you the look and feel of the sporty machine without spending the extra money on the performance type unit. It was really fun to drive and is perfect for riding around with your buddies, trail riding or just playing in the yard. The Maverick 1000R X rs model is highly recommended with the performance upgrades. The top of the line FOX suspension and great handling make it the ideal machine for racing and high speed trail riding.