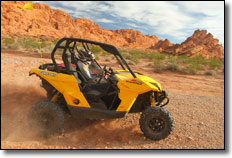 The Can-Am Am Maverick is easy to enter & exit thanks to its single buckle locking safety netting system
The Can-Am Maverick SxS / UTV is easy to enter and exit with its simple to use safety net system. Can-Am's nets are easily secured with a single seat belt buckle style locking system. They are simple to open and release with just one click. The shape of the nets also allow easy access for getting in and out of the machine without getting in your way.
Inside the Maverick cockpit, the seats are comfortable and the tilt steering wheel combined with adjustable seats allows for a comfortable ride for people of all sizes. Also, the Can-Am Maverick features a roomy glove box, which provides plenty of space to store belongings and drinks for the ride. We stored four water bottles, maps, dust masks and a tool kit in the glove box with no trouble. The Maverick also has dual cup holder in the center console, which are easily accessible for drinks on the ride.
The 2013 Can-Am Maverick features the same comfortable cockpit as the popular Can-Am Commander SxS / UTV
Passenger comfort and safety were not compromised in anyway with the Maverick. A U-bar in front of the passenger is easy to hold onto and gives reassurance during the ride. The U-bar is very solid and bolted directly to frame witch gives anyone a solid grasp with no wiggle room, and there is also a console mounted hand hold for additional hold point options for the passenger.
The seat belts also provide total comfort for both driver and passenger. They didn't ring your neck and shoulders when hitting hard breaks and bumps. The seat belt system gave a little bit, which kept everyone feeling safe while not adding any extra stress to our bodies.
As far as storage on the machine, it comes with more of a sport bed, not a utility bed like on the Commander, but instead the rear bed storage, the Can-Am Maverick utilizes the rear rack from the Outlander, which is composite based and has plenty of tie-down points for securing your load. We were able to easily fasten our camera equipment with a few straps and it fit well and didn't move around. Also, all the optional accessories for the Outlander rack will work on the Maverick, which is an added bonus.
The 2013 Can-Am Maverick features a powerful 101 horsepower Rotax V-Twin engine that produces great power & sound
Beside a shared cockpit with the Commander and racks from the Outlander, the Can-Am Maverick is an all-new machine, and the Maverick features an unmatched 101 horsepower with a Rotax V-Twin engine. Strategically designed Torsional Trailing A-Arms give smooth rear suspension that helps eliminate bump steer and adds to the machines predictability.