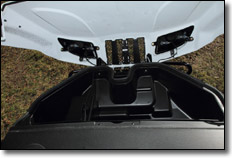 The Prowler features a very large storage space under the hood that can hold up to 25 pounds of cargo
The Prowler XTZ1000 also comes equipped with a good amount of storage space and is able to fit 25 pounds of cargo under the hood, and 600 pounds in the rear box, which comes in handy for storing extra supplies and tools for those longer rides. The towing capacity of the Prowler is also very good at 1500 pounds. The Arctic Cat Prowler XTZ1000 features aggressive styling with a choice of brilliant white metallic paint or a vibrant viper blue color schemes. This unit also comes standard with eye catching 14" machined aluminum wheels mounted with 27x9-R14 tires in the front and 27x11-R14 tires in the rear. As always, Arctic has a plentiful lineup of aftermarket goodies for giving your Prowler a more personalized look and those products are readily available at Bass Pro Shops thanks to Arctic Cat's partnership with the popular outdoors shop.
Arctic Cat Prowler XTZ 1000 has a very stylish appearance, but Arctic Cat has removed the fake hood scoop, and it also features some nice looking 14" machined aluminum wheels
We cannot stress enough how very pleased we were with the upgraded safety features of the 2011 Prowler XTZ1000 which really allowed us to feel safe and comfortable while putting this machine to the test. One thing we would recommend, is that when out on a ride, that it would be a good idea to take advantage of some of the XTZ's plentiful cargo space by bringing along extra belts, like with any UTV, and possibly extra tie rods as we did manage to bend one while out on our test ride.
The new 2011 Arctic Cat Prowler XTZ 1000 has all the safety updates that needed and more!
Overall, we couldn't be more pleased with the Arctic Cat Prowler XTZ1000. This is a great high performance UTV that offers a smooth, comfortable ride while keeping the riders' safety in mind. If you are looking for a solid American made product, with easy access to service and aftermarket parts, and amazing performance, than this is the vehicle for you. Arctic Cat has done an excellent job with the Prowler XTZ1000 and we can't wait to get one of these machines for ourselves.