2015 WORCS Racing
Round #5 - Sand Hollow
April 18, 2015
Hurricane, Utah

WORCS Racing Sand Hollow ATV Race Report
::Continued::
In the WORCS Racing Pro-am class, Mike Sloan continued to dominate with his fifth straight win of the season. "This course is really similar to where I used to live, so I really liked it. I got out there and chose good lines, and I was able to take the win and finish third overall. It feels great getting these wins. It has been a great season for us so far, and I am hoping to stay on top of the box," said Sloan.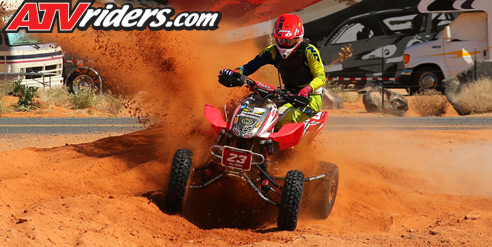 STI's Mike Sloan claimed his 5th Straight WORCS Pro-Am Win
Elka's Alex Ortiz was looking good off the start and was holding down the number three spot. Ortiz caught up to Matt Hancock, who was in second and began battling. The pair battled hard with Ortiz taking over second and claimed his best finish of the. "It's been a long year so far. I really needed this finish. It's really a boost in confidence. I caught Matt in the rock section and I just tried to stay calm and keep my head, and I got by him," said Ortiz.
ELKA's Alex Ortiz claimed a season best 2nd place finish in Pro-Am
Tire Block's Matt Hancock grabbed the holeshot and held the lead in the first lap until Mike Sloan got by. Hancock stayed in second for most of the race until the final lap when he came under fire from Alex Ortiz. After a tough battle with Ortiz, Hancock fell back to third; where he finished the race. "I just tried to get a good start, which worked out; I got the holeshot. I was able to stay out front for a while and then Mike got me and then I was in second for most of the race. Alex caught up to me and we battled a bit, but he was riding really good and got by me. I had a good race and I am happy with my finish," said Hancock.
Maxxis' Matt Hancock claimed his third podium finish of the year in the WORCS Pro-Am Class & he is currently 2nd in points
Goldspeed's Ty Sanders put in a good effort and claimed a fourth place finish, while Travis Hanes rounded out the top five.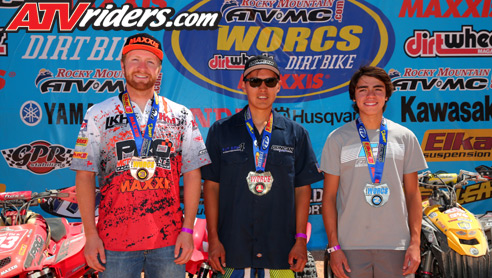 WORCS Racing Pro-Am ATV Podium (left to right)
Matt Hancock (3rd), Mike Sloan (1st), Alex Ortiz (2nd)
Round number six of the 2015 WORCS series will head Iron Mine MX track in Cedar City, UT on May 22-24 where the points battles will be heating up as the series heads into the final round of WORCS racing before the two month long summer break.