2015 WORCS Racing
Round #5 - Sand Hollow
April 18, 2015
Hurricane, Utah

WORCS Racing Sand Hollow ATV Race Report
::Continued::
H&M Motorsports' Beau Baron came on strong and was feeling much better after an injury he sustained during the Lake Havasu round. "My shoulder wasn't broken, so it is feeling a lot bette,r so I went out there and gave it my all," said Baron.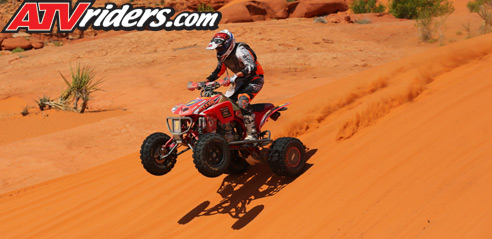 Maxxis' Beau Baron charged his way into the second spot by the third lap
Baron was in the number four spot early on, but he recorded the fastest laptime of the race in lap two and charged his way into the second spot by the end of lap three. Unfortunately, Baron also was stung by a bee, which he is allergic to, but continued to race and took a solid second place finish, which keeps him in a tight points battle with Haagsma.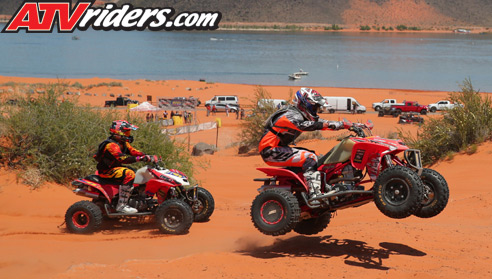 Sparks Racing's Beau Baron is now just one point behind his teammate, David Haagsma, in the WORCS Racing Pro ATV Championship race
Elka's Collins Webster, who was racing with the H&M Motorsports team for the weekend, was toward the back of the pack of the start but at the midway point he was able to move into third place. "It got rough out there, but I loved it. I had a blast. This was my hometown so I had a lot of friends and family here. My H&M Motorsports Honda ran great out there, and I am really stoked with how my race went," said Webster.
H&M Motorsport's Collins Webster claimed his second podium finish of the weekend in the Pro ATV, which was his first WORCS Pro Podium
Pro Motorsports' Jeff Hancock was at the back of the pack off the start and went down early in the first lap. "There was a kicker at about mile marker two and I went down. It took me a while to get going again, but I got back out there and finished the race," said Hancock.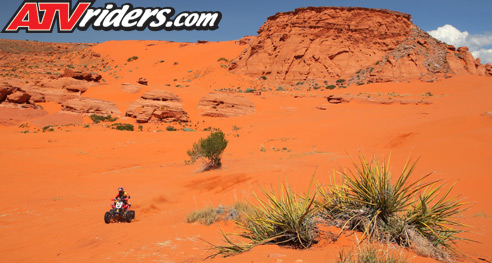 Pro Motorsport's Jeff Hancock claimed a season best fourth place finish
Hancock stayed the course despite the incident and claimed a fourth place finish at the checkered flag. "I just pushed the rest of the day and ride my own race. I got fourth so not too bad. Maybe next race I will be on the podium," said Hancock.
Robbie Mitchell was looking strong the last couple of races and was running in second place, but encountered issues when his stator blew. "I was up in second and my stator went out. I was able to push awhile and then get towed back in. I got it fixed and got back out there to salvage enough laps to secure a fifth place finish," said Mitchell.
LMR's Robbie Mitchell finished in the 5th spot after a stator failure
Garrin Fuller was running up in second place, but he crashed in the third lap and injured his shoulder, which took him out of the race.
Duncan Racing's Garrin Fuller was in the hunt for another podium finish before he crashed & reinjured his shoulder