2012 WORCS ATV Racing
Round #7 - Cahuilla Creek MX
August 5, 2012
Anza, California

WORCS Racing - Round 7 - Cahuilla Creek - Pro ATV Race Report
::Continued::

Yamaha's #417 Josh Row rounded out the Top 5

Yamaha's Josh Row was looking solid as he came off the line in fourth. Row eventually found himself in fifth place after the first lap and rode a consistent race as he took the number five spot all the way to the checkered flag.

Robbie Mitchell, who finished on the podium at round six, was having a consistent race as well. Mitchell was in seventh off the start and was able to make his way into sixth place at the midway point and hold that position all the way to the finish line.

Tim Shelman held on to take a seventh place finish while Mike Cafro crossed the finish line in eighth.

Yamaha's #94 Dustin Nelson injured his wrist when he had a get off early in the race, which ended his race after only three laps

Yamaha's Dustin Nelson was looking strong off the start as he came off the line in fifth and soon took over fourth. Unfortunately for Nelson, things did not go according to plan. "My rear shock heated up and wasn't working and it bounced me right over," said Nelson, who ended up re-injuring his wrist, which forced him to call it a day after only three laps.

In the Pro-am ranks, Can-Am's Collins Webster claimed his first win of the season. Webster grabbed the holeshot and never looked back. Webster's win now has him in contention for the championship at the final round. "It felt great to take that win. I've been working on my starts and it really helped this weekend with all the dust," said Webster.

Levi Shirley claimed his best-ever Pro-am finish as he joined Webster on the podium in second, while Ryan Waldo also had his best finish as he rounded out the top three.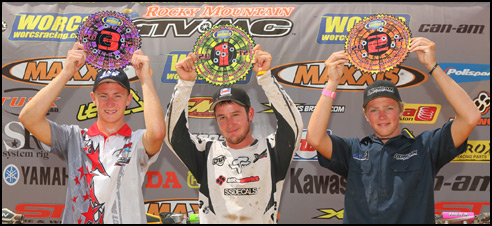 WORCS Pro-Am ATV Racing Podium (left to right)
Ryan Waldo (3rd) , Collins Webster (1st) , Levi Shirley (2nd)
Pro-am points leader Garrin Fuller encountered issues due to all the dust and was only able to take a tenth place finish, which will make for an exciting final round of racing with Fuller and Webster going for the Pro-Am Championship.
In the Side-by-Side classes, it was RJ Anderson who claimed another victory in the 1000 Production class, which now has him tied with Ryan Piplic, who finished in second, for the points lead.
Turnkey UTV's Beau Baron was also on the podium with a third place finish that has his sitting comfortably in third in series points.
The final round of the 2012 WORCS series will head to Honolulu Hills in Taft, CA on September 14th – 16th where the 2012 championships will be decided.