2011 WORCS ATV Racing
Round #7 - Glen Helen MX
September 18, 2011

WORCS Racing - Round 7 - Glen Helen MX - Pro ATV Race Report
::Continued::
Absent from this round was Dustin Nelson's teammate, Josh Row. Row will be out for the rest of the season as he recovers from dual shoulder surgery. Row has been suffering with shoulder injuries all season long, but has put in a good run in spite of it and is expected to return to the Yamaha team and the WORCS series in top form next season.
#83 Cody Mitchell grabbed the $200 Casey Johnson Memorial Holeshot Award, but #39 Collins Webster was able to out power Mitchell up the first hill climb to take over the lead, which Webster held to the checkered flag for his 3rd win of the season
In the Pro-am class, Cody Mitchell grabbed the holeshot, but his lead would not last as Collins Webster made the pass early in an uphill section. Mitchell would eventually finish in fifth and Webster would hold the lead for the rest of the race to take the Pro-am win.
| | |
| --- | --- |
| | |
| Motoworks' Collins Webster extends his Pro-Am ATV Points lead to 21 points with his third win of the season | Roll Design's #1p Keith Johnson claims the final spot on the Podium, which also ties him for 2nd in points with Cody Mitchell |
Chase Thomas worked his way up to take the second spot on the Pro-am podium, while Keith Johnson charged hard to finish in third.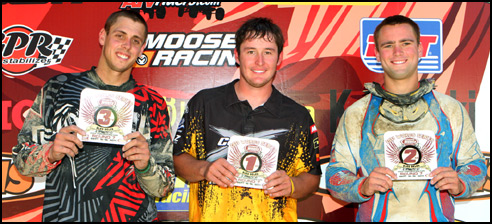 WORCS Pro-Am ATV Racing Podium (left to right)
Keith Johnson (3rd) , Collins Webstetr (1st) , Chase Thomas (2nd)

#549 Beau Baron was able to hold off National Guard's William Yokley to claim his 3rd win of the season in a nearly stock Polaris RZR XP 900

In the Class One SxS races, Beau Baron took his third win of the season, giving seasoned SxS racers, such as William Yokely, who took the number two spot on the Class One podium, a run for their money. Ryan Piplic held on for a third place finish, while Andrew Berry came from the back of the pack to take fourth, with Scott Kiger rounding out the top five. Round number eight of the 2011 WORCS series will head to Race Town 395 in Adelanto, CA on October 21st – 23rd where the points chase will be heating up between the Can-Am/Motoworks team's Josh Frederick and Jeremie Warnia, and MCR/Maxxis Tire's Beau Baron as they will be battling it out for the top of the podium in hopes of closing in on the 2011 WORCS Pro Championship.