2011 WORCS ATV Racing
Round #7 - Glen Helen MX
September 18, 2011

WORCS Racing - Round 7 - Glen Helen MX - Pro ATV Race Report
::Continued::

Yamaha's #94 Dustin Nelson charge to the Podium started in the 6th spot

Yamaha's Dustin Nelson considers Glen Helen his home track and it showed as he charged his way to a podium finish. Nelson was just outside of the top five off the start but kept a steady and consistent pace and began picking off riders. Nelson, who is known for his exceptional motocross skills, and just took the 2011 Quad X Pro Championship just last week, was one of only two racers to take a huge uphill jump that allowed him to make up time on his competition.

Nelson's advantage had him moving through traffic quickly and the bottleneck caused by Grant Mitchell's crash, allowed Nelson to close the gap on the leaders and move into third when Frederick stopped for fuel. In the final lap, Nelson was pressuring David Haagsma for second and was able to get by when Haagsma made a mistake and fell back.

Yamaha's #94 Dustin Nelson charged his way to a Podium finish with a 2nd place finish at Glen Helen, which ties a season best for Nelson

DWT's #1 Josh Frederick takes over the 2nd spot in lap 6 when #62 Jeremie Warnia heads into the pits, but Frederick's run in 2nd would be short lived when stopped to help a fellow racer shortly afterwards, but Frederick would pay the ultimate price when he needed to pit on the following lap & dropped back to 5th place

"David was riding really good so I just stayed close and was waiting for him to make a mistake; and when he did I was able to get by," said Nelson. From there, Nelson cruised to the checkered flag to take second place on the pro podium. "I felt pretty good out there and I'm glad to finish on the podium. With Josh (Row) out for the rest of the season I'm going to be trying even harder to represent our team out there and have good finishes," Nelson said. Can-Am/Motoworks' Josh Frederick took the win at Washougal, which allowed him to close the points gap on his teammate and points leader, Jeremie Warnia; and Frederick was determined to close it even further at Glen Helen. Frederick was inside the top five off the line and was holding down a solid fourth place for a few laps and recorded the fastest lap time of the race in lap four with a time of 11:12.387. His fast lap times helped him move into second place in lap six, but Frederick's position would not last. "When we came into the Pro section, one of the Pro-am racers, Grant Mitchell had crashed and was stuck under his quad. He couldn't get out so me and a couple other racers stopped and helped him. Stopping like that let everyone else catch up, and when I had to stop for gas in the next lap, several people got by me. I just put my head down and I was able to get back into fourth and then in the last lap, I got by David Haagsma when he made a mistake," explained Frederick, who would end his day in the number three spot on the pro podium.

Can-Am's #1 Josh Frederick charged his way back to a 3rd place finish before the checkered flag to claim his seventh podium of the finish of the season, which moves Frederick within 1 point of Jeremie Warnia in the points lead

Frederick's podium finish now has him only a couple of points off the lead with the one throw away race that the pro class is allowed for this year. "I think I'm about three points down with the throw away, so I really want to win the last two races so I can keep the number one plate for the Can-Am/Motoworks team," stated Frederick.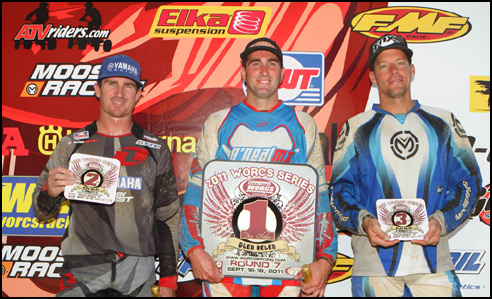 WORCS Pro ATV Racing Podium (left to right)
Dustin Nelson (2nd) , Beau Baron (1st) , Josh Frederick (3rd)