WORCS ATV Racing
Round #8 - Glen Helen
September 26, 2010
Maxxis / MCR's Beau Baron Takes 2nd Straight Win & Points Lead
Yamaha's Dustin Nelson & MCR's Josh Row Podiums

San Bernardino, CA – After a series if incredible events at round eight of the 2010 WORCS series, MCR/Maxxis Tire's Beau Baron came one step closer to his goal of a repeat championship as he took the Pro ATV win, and took over the points lead, with Yamaha's Dustin Nelson taking second and MCR/Maxxis Tire's Josh Row, claiming third.

The heat was intense as temperatures soared to nearly 110 degrees before the end of the second lap and took its toll on many racers that only added to the pressure for Josh Frederick and Beau Baron, who were only separated by two points going into this round.

Motoworks' Dillon Zimmerman grabbed the ATVriders.com Holeshot Award by edging out Yamaha's Dustin Nelson

Beau Baron was in a strong third off the start behind Dillon Zimmerman and Dustin Nelson. Zimmerman would fall back and Baron soon worked his way into the number two spot behind Dustin Nelson. Baron pressured Nelson for the entire second lap and took over the lead shortly before the end of lap two. "Dustin made a mistake going up this one hill and I was able to get around him and then I just kind of put it in cruise control because it was so hot and I didn't want to get too tired," stated Baron.

Maxxis' Beau Baron took over the lead in lap two with Yamaha's Dustin Nelson in chase

Maxxis' #1 Beau Baron claimed his 2nd straight win & took over the points leads

From there Baron pulled away, with Nelson right behind him and put a four minute lead on the competition. Baron held a solid lead and after eleven laps, Baron took the win and took over the Pro points lead by five points. "I'm glad I got the win and got ahead in points, but it's not over yet, so I am going to be training hard because I really want to hang on to the championship!" said Baron, who knows he will have his work cut out for him at Mesquite.

Yamaha's Dustin Nelson took over the lead in lap one through the endurocross section & finished out the day in the 2nd spot behind Baron

Yamaha's Dustin Nelson was in a solid second off the line and took the lead away from Dillon Zimmerman through the endurocross section. Nelson led for the first lap, but in lap two, Beau Baron would get past him. "I got a little crossed up in a hill section and Beau was able to get by me. I stayed pretty close to him after that," said Nelson.

The number 94 Yamaha stayed strong and stayed close to Baron, but he was not able to remount a charge and held second place all the way to the finish line. "After a while the heat was really starting to get to everyone, including me, so I paced myself and took second," Nelson explained.

Josh Row was again looking strong and consistent as he came off the line in the top five and moved into the number four spot in lap two, where he pressured Dillon Zimmerman. Row waited for his opportunity and got around Zimmerman in lap four. From there, Row held his position for several laps until Josh Frederick caught up and began to challenge him. Row held off Frederick for several minutes before falling back to fourth place but as fate would have it, Row would reclaim third for the final spot on the Pro podium.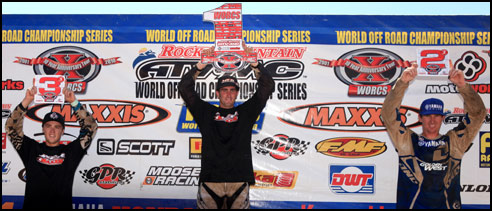 WORCS Pro ATV Racing Podium (left to right)
Josh Row (3rd), Beau Baron (1st), Dustin Nelson (2nd)