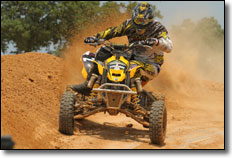 Cody Dacus took the 14-24 Open Class Moto 1 win but placed fifth in Moto 2 giving him second overall
Cody Dacus, who took the moto one 14-24 Open win, was not able to repeat his moto one success and finished in fifth, giving him second overall for the day. Kyle Waitschies rode a solid race with 4-2 finishes that gave him the final spot on the podium.
In the Open B class, Keifer Peak came on strong and claimed both moto wins for the overall. Peak has won four out of seven rounds so far and has not finished off the podium yet this season. Peak's strong performance has him in a healthy points lead. "I've had a really good season so far. I really like the series, it's been a lot of fun and I'm hoping to win a championship at the end of the season," said Peak.
| | |
| --- | --- |
| | |
| #26 Keifer Peak swept the Open B Class by winning both Motos | #1 Shawn Rodges went 2-2 in the Open B Class earning him second overall |
Shawn Rodges also came on strong in the Open B class. Rodges took home a pair of second place finishes and claimed second on the Open B podium.
Cody Dacus was also looking good as he stayed close and claimed 3-3 finishes rounding out the podium in the Open B class.
For the 2012 Season, the TQRA series incorporated Side-by-Side racing at some rounds and it was a lot of fun for all. Cody and Hunter Miller battled back and forth in their Can-Am Commanders at every race, much to the delight of spectators. The brothers were so close in points that the SxS championship came down to the final SxS moto of the season, which was at round six in Norman, OK.
"It was really close between Cody and I all season long and we have had a blast racing the Commanders. It was so close, that the championship came down to the last moto in Norman at the Oklahoma Motorsports Complex. We were really going at it, bumping and banging, but I managed to get ahead of Cody and win the last moto and the championship. It was so much fun for us and I really have to thank Can-Am for giving us the opportunity to race the Commander," said Hunter Miller.
Even though the Side-by-Side part of the series has concluded there are still six rounds left for the ATV's. Round number eight of the 2012 TQRA series will head to Shogun MX in Lane, OK on June 23rd – 24th.