2016 Terracross Championship
Rounds One & Two
September 11, 2016
North Branch, Minnesota

Hay Days Terracross Hero Military RZR Report
Bruce Cook Sweeps Hay Days Terracross Championship
Terracross Championship
Pro RZR Racing
North Branch, MN (9/30/2016) – Bruce Cook won both rounds of the Monster Energy Hero Military class of the Mystik Lubricants Terracross Championship. The events, which featured injured action stars and military veterans, were part of the 50th Anniversary Sno Barons Hay Days.

Jeff Scace and Paul Thacker completed the podium in race one. Thacker backed up his podium in race two with a second-place finish, ahead of Forest Pryde.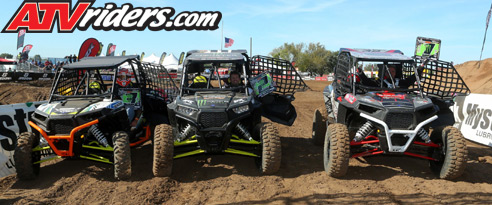 2016 Terracross championship - Round 2 - Hero Military Podium
Forest Pryde (3rd), Paul Thacker (2nd), Bruce Cook (1st)
The event was held on a track built by pro racers Jason Luburgh and Dana Creech with help from Ziegler CAT. The circuit's technicality was offset by several high-speed sections, big air jumps and the Mystik Mangler, which included a 20-foot wall over tires.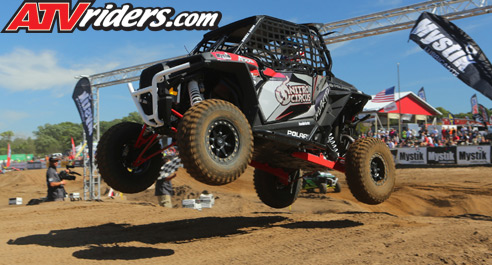 Nitro Circus' Bruce Cook launching over the Mystik Mangler
Cook was pleased to sweep both races. Cook broke his back in 2014 in a freestyle motocross event and became the first paraplegic to flip a motorcycle backwards at a Nitro Circus event in Toronto last year. Cook is a native of British Columbia, Canada.
Bruce Cook swept both class wins at the Hay Days Terracross Championship
"It was a good time, a good track and good competition," said Cook. "This was my first time ever racing a RZR. It was nice to come out here and have fun with a great group of competitors. It's a technical track, so I tried to drive cautiously and keep it together."
Scace is a veteran of the U.S. Army Special Forces and a survivor of an IED attack. His company Optimas Starters sponsored the Terracross Championship last season. He was pleased to get off the sidelines and score a podium.
Optimas' Jeff Scace secured a podium finish in Round One
"This was my first race, ever and I was happy to represent Optimas this way," said Scace. "It was tough sitting on the sidelines and I thought it would bring more credibility to our company if I were out getting dirty with the guys. It was an honor to be surrounded by veterans and the injured action sports stars. I met all of the veterans and Paul Thacker. Paul is an inspiration and a big-hearted guy. He's doing great things to keep us involved after we get back from the fight."
Thacker backed up his third-place finish in race one with a runner-up effort in race two. Thacker, from Anchorage, AK, is a Snocross racer and X-Games competitor who broke his back in 2010 leaving him without use of his legs.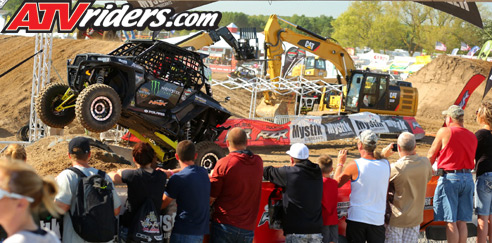 Monster Energy's Paul Thacker
"It was good, clean racing and I got a little better on day two," said Thacker. "The Holz hand controls took a little getting used to and I have arm pump like crazy. Apparently I'm not training enough. The track was very technical so little mistakes cost you a lot of time. It was a lot of fun. I've had a great career in action sports and when I got injured, it really put some things in perspective as far as what I can do to help our veterans that are coming back struggling."
Forest Pryde secured the 3rd Spot in the second round of racing
The next race for the Mystik Lubricants Terracross Championship is scheduled for October 1-2 for the Camp Lejeune Support our Troops Terracross in Jacksonville, NC.