2018 Monster Energy SXS Midwest
Spring National Presented By Yamaha
US AIR Motorsports Park
May 12, 2018
SXS Midwest Spring National Day One Race Report
Kyle Chaney, Anthony Schwellenbach & Ricky Carmichael Win
Shawano, WI (5/12/2018) - Kyle Chaney, Anthony Schwellenbach, and Ricky Carmichael scored victories during the first day of the Monster Energy Midwest SXS Spring National Presented by Yamaha. The event was held at USAir Motorsports Raceway.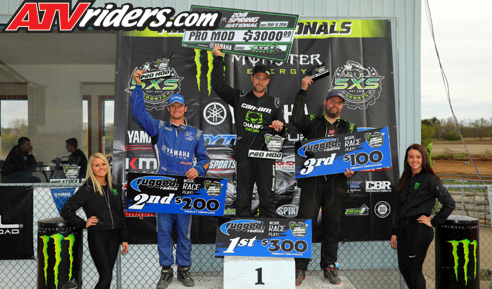 Pro Mod SxS / UTV Podium (left to right)
Cody Miller (2nd), Kyle Chaney (1st), Zac Zakowski (3rd)
The race is the brainchild of Johnny Greaves, CJ Greaves, and Rodney VanEperen and kicks off the Midwest short-course racing season. It was held on USAir's well-known asphalt drifting/kart circuit, as well as a purpose-built dirt short course created by Greaves and his crew. Though weather was cold with sleet during qualifying on Friday, the sun came out on Saturday with temperatures in the high 60s.
Turnout was huge as nearly 80 cars showed up for the inaugural event. With a $25,000 purse, the race attracted most of the big names in the sport, including Carmichael, who made his SXS racing debut.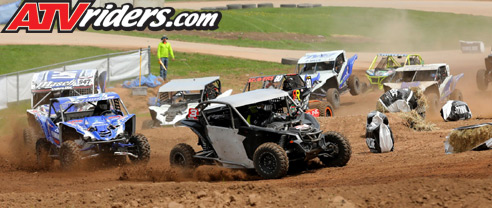 #3 Kyle Chaney grabbed the holeshot and ran away with the win in his Can-Am Maverick X3
Chaney won the Pro Modified class in a brand new Can-Am Maverick X3 he just finished building for the GNCC Series. In fact, the car was so new, that it didn't have graphics. After setting a torrid pace in qualifying, leading the field by over three seconds, he dominated in the main event to win $3,000. Cody Miller was second, followed by Zac Zakowski.
"I figured it would be a good shakedown for the car and it worked really well," said Chaney. "I really pushed it in qualifying because I didn't know what everyone else's speed was. After that, we tried to preserve the car because we didn't bring any spare parts. I wanted to make sure we got through today cleanly and be ready for tomorrow. Thanks to Johnny Greaves for supporting this race. I have a little money in my pocket and maybe tomorrow we'll pound some doors."
Chaney said the pavement sections made for a unique twist during the event. About a third of the track is asphalt.
"I don't feel super confident on the pavement," explained Chaney. "I think it's just about staying smooth and in control. The pavement definitely throws an obstacle into the racing we're used to. It's another thing to learn from and it makes us better drivers."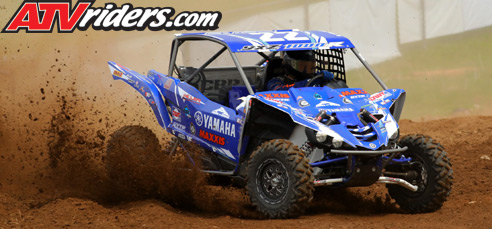 #22 Cody Miller
Miller drove his turbocharged Yamaha to a second-place finish. Driving the car he usually uses in the Texas TORN Series, Miller got faster throughout qualifying and the heats and topped it off with a podium in the main.
"I'm enjoying myself and picking it up every time I go on track," said Miller. "My GYTR Turbo Yamaha 1000 is flying. I just have to keep it planted and going in a straight line. The asphalt is definitely a different animal."
Zac Zakowski
Zakowski had a bit of a homecoming. He lives just an hour away from the facility and grew up racing go-karts here. Zakowski was driving a Yamaha.
"It was fun out there," said Zakowski. "I got my brains beat out, but it was a good run. I actually used to race go karts here when I was seven to 12 years old. It's so close to the house and we had to go do it to bring back some memories."
Pro Stock SxS / UTV Podium (left to right)
Kenny Masch (2nd), Anthony Schwellenback (1st), Devin Young (3rd)
In Pro Stock, Schwellenbach started on the pole in his Yamaha and held onto the lead for the entire race to earn the $2,500 victory. Dillon Pointon made a charge late in the event, but tangled with another car and fell out. Kenny Masch made an inside move on Devin Young on the final lap to finish second. Young was third.
Anthony Schwellenback grabbed the early led in Pro Stock
"I just went out there and drove patiently," said Schwellenbach. "It was an intense race. It was amazing. I just beat a bunch of people I wanted to race with last year. Patience was the key especially on the asphalt. You really had to drive slow to go fast."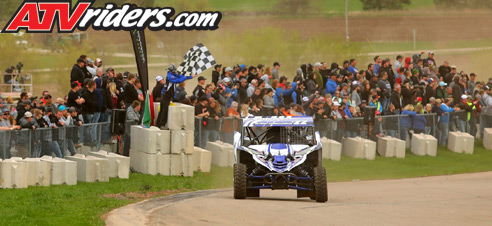 Anthony Schwellenback taking the checkered flag
Masch, in a Yamaha, pushed his way through the field. On the final lap, he dived to the inside and made the pass stick to score the podium finish.
#5 Kenny Masch
"I was getting pushed around a little so I got a wheel in there, but I did it pretty clean," said Masch. "With some clean air and a few more laps, I think I would have had something for Anthony. This is our favorite event so far. It's a lot of fun and has a relaxed atmosphere."
Young made the trip from Hollister, MO to compete in the event. Young's car was under steering on the final lap, but he held on to finish third.
# 979 Devin Young
"The last lap, we had a little trouble with the car pushing," said Young. "He slid to the inside and got us. I'm still happy with the finish. This is our first big race and we did well. The event is awesome and I liked the track. We had a long drive, and it paid off. Hopefully we can do it again tomorrow."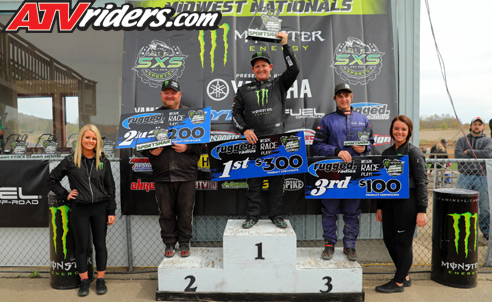 Sportsman SxS / UTV Podium
Carmichael traded two wheels for four here as he drove Polaris' new RS1 to victory in the Sportsman class. The motocross legend was a little timid at first, but quickly drove the competitive machine to the lead and held on for the victory. It marked Carmichael's first-ever SXS race.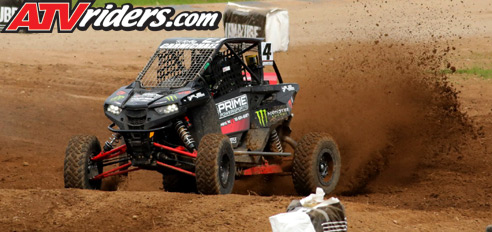 #4 Ricky Carmichael
"This is my first time in the RS1," explained Carmichael. "There are a lot of guys that do this a lot and I didn't expect to light it up out there. These guys were following me and they're finding the good lines and I'm looking forward to a good second day of racing. What a great facility and a great race that Johnny and his crew put together. It's a lot of fun."
The event continues on Sunday with a full card of SXS racing once again at the USAIR Motorsports Track.