2007 Third Annual
Stateline SuperMoto Challenge
Primm, Nevada
Buffalo Bills Resort & Casino
April 13-15, 2007

Nic Granlund Stateline SuperMoto Pro ATV Race Report
---
Stateline SuperMoto
Challenge - Links
#4 Nic Granlund

Primm, NV (4/19/2007) – The third annual Supermoto Challenge was a great event with over 30 pro riders, 45 amateur, and 22 stock amateurs. The four day weekend started out on Thursday with My Supermoto School with riders from all skill levels looking for that extra advantage over the competition. Everyone had a great time and left the course with faster lap-times. Two riders that signed up for the school earned the top two spots in the Open Amateur Class with Cody Mitchell claiming the win followed by Russell McWhorter in second place. McWhorter also went on to finish second in the Quad Stock Class as well.

Friday - ATV Team Race
I teamed up with Jason Anderson for the team race. We started on the fifth row with 17 teams ahead of us, so we had some work cut out for us especially with second turn pileup. ACE Racing Teammates Shaun Moore and Cody Mitchell had a good lead, but we were slowly making up time with each lap when Shaun got stuck with some lappers. With three laps to go in the first session we took the lead. I handed off the lead to Jason and we rode solid to take the win followed by Daryl Rath and Frank Batista with Shaun Moore and Cody Mitchell rounding out the Podium.

Saturday - Pro ATV Qualifiers
For the first race we drew numbers, and I started on the third row outside. Coming around the first turn in 10th place, I knew I had a long way to go in only 4 laps. Passing two or three riders per lap I was working my way to the front. With Frank setting a good pace, I was catching him, but I ran out of time with and finished second behind Frank Batista.

For the second race the front row consisted of Jason Anderson, Frank Batista, Daryl Rath and I. I got a decent start and tucked in behind Frank who got the Holeshot. Half way thru the dirt section, I made a move going up the step on step off jump and passed Frank for the lead. I held strong and finished 1st, which set me up with a pole position for the main event.

Sunday - Pro ATV Main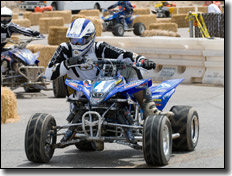 #4 Nic Granlund

Sunday morning I was looking forward to a great sunny day with my quad set up for dry conditions, but an hour or so before the Pro race the clouds rolled in and it started to rain. It did not look like it was going to last long, so I rolled the dice and stuck with my dry setup. Luck was on my side, and the rain stopped soon enough to allow the track to dry out before the race.

I headed to the line for my pole position starting spot on the front row . As the green flag dropped, I got a great jump, shifted into 2nd gear and thought it would carry me to the first turn. As I was hitting the rev limiter, I realized the first turn was further than I thought, and I could see Frank coming in strong from the outside. As he overshot the first turn, I held a tight line and secured the Holeshot and the lead. For the next five or six laps, I made no mistakes and rode a perfect race.

Once we began to catch the lappers I knew it was going to become sketchy weaving through the traffic without incident. Luckily, I made some smart maneuvers and picked my way through the pack without any issues, and held onto the lead with ease to claim the Stateline SuperMoto Pro Win over some stiff competition with Daryl Rath and Frank Batista rounding out the Podium.
Quad Expert / Pro - Top TEN

Finish

#

Bike

1

Niclas Granlund
Las Vegas, NV

4

Yamaha

2

Daryl Rath
Hutchinson, MN

67

Honda

3

Frank Batista
Riverdale, CA

13

Honda

4

Jason Anderson
Dublin, CA

11

Yamaha

5

Kenny Pacheco
Glendale, AZ

77

Suzuki

6

Zac Willet
Henderson, KY

47

DURO

7

Joe Arrowsmith
Red Bluff, CA

20x

Suzuki

8

Shaun Moore
Pahrump, NV

66

Yamaha

9

Garrick Lastra
Mesa, AZ

42

Honda

10

Dennis Capogni
Chino, CA

471

Yamaha

I would like to thank NGR, Fox Shox, CT Racing, ACE Racing, Threadz, DWT, Hinson, Lonestar, Laegers, AC racing, Quad Tech, Skat Trak, Blingstar, FASST, Streamline, Velocity, Maxxis, NMotion, Torco