QUADCROSS Northwest
Rounds 1 & 2 – Woodland MX Park
Woodland, WA
March 24-25, 2012

QUADCROSS NW - Woodland MX Park - Pro ATV MX Race Report
Black Diamond Motorsports' Cody Irving Wins, Jorie Williams & Phil Oppen Podium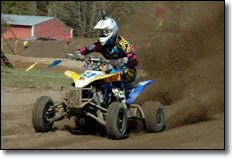 Black Diamond Motorsports' Cody Irving took his first Pro ATV Class win at the 2012 QUADCROSS Northwest ATV Motocross Racing Series opening round

Woodland, WA (3/28/2011) – The inaugural season of QUADCROSS Northwest started out as if it has been a staple in the racing community for years. The competition and racing was phenomenal for the opening round of the 2012 season. Black Diamond Motorsports' Cody Irving made a statement taking both moto wins to top the Pro podium while, Pro Caliber's Jorie Williams followed in second with Phil Oppen in third for the day.

Early in the week, Woodland had several inches of rain and snow but Mother Nature provided the track with near perfect racing weather for the season opener. With temperatures in the upper 60's and partly cloudy, and the track was in perfect condition for the entire weekend. These conditions allowed for some seriously fast lap times, with Cody Irving putting down the fastest time of 1:38 during the Pro qualifying session on Saturday afternoon.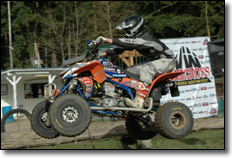 Jorie Williams took second in the Pro ATV Class aboard his Quad75Dezert Honda 450R ATV
The 2012 season opener, proved to be one of the most competitive the Northwest has seen in a long time. Andy Bunn took the holeshot, followed closely by Cody Irving and Jorie Williams. Within two turns, Cody Irving had taken the lead away and had begun to set some blistering laps with Jorie Williams close behind. When the checkered fell on moto one, Cody Irving took the first moto win for the season and appeared to establish himself as the man to beat. The second moto separated those who trained during the off-season and those who did not, as track conditions had deteriorated substantially. The holeshot went to Aaron Bunn aboard his KTM 450, again closely followed by Cody Irving and Jorie Williams. After making the pass for first, Cody put a 12 second gap on the field and remained out front the entire race. Jorie and Phil eventually got around Aaron for 2nd and 3rd but the lead set by Cody was overwhelming for anyone to challenge.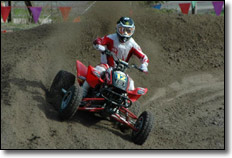 Phil Oppen rounded out the Pro ATV class podium third overall at Woodland Park MX

"The season opener for Quadcross Northwest was fantastic," Cody Irving told us, "I thought the weather was going to be a factor early in the week, but the rain held off and it couldn't have been any better. The Pro-Am motos on Saturday were definitely tough because I didn't pace myself enough and found myself getting some arm pump, but I was able to get both moto wins. The pro qualifying is an awesome addition to the series, and I was really pushing to put in some quick laps. Sunday shaped up to be the best day of the two, with track conditions near perfection. I got some pretty good starts, and put my head down to get a gap on Jorie Williams and the rest is history. I'd like to thank, Black Diamond Motorsports, Lyons Technical Machining, Riot Performance, Pro Caliber, Swagmoto, Holeshot Hotties, Steve Corrie of Track Masters for setting up an awesome track, and the entire Quadcross NorthWest crew for putting on an amazing opener."

The next 2 rounds of Quadcross Northwest will be held at Horn Rapids MX park just outside of Richland, Washington on April 21 and 22.

For more information please visit Quadcrossnw.com or find us on Facebook at Facebook.com/quadcrossnw