2015 STI Quad-X Racing
Round #4 - Glen Helen
San Bernardino, CA
June 27, 2015

STI Quad & UTV X Racing Pro ATV Race Report
Beau Baron Goes 1-1 for Overall at Round Four
STI Quad-X Racing Series
Glen Helen - Round 4


San Bernardino, CA (7/1/2015) - H&M Motorsports' Beau Baron swept both motos Saturday at Glen Helen Raceway to win the Quad Pro class at Round 4 of the STI Quad X Racing Series. David Haagsma padded his points lead with second overall, ahead of David Flores made his season debut.
Sparks / Maxxis' Beau Baron grabbed the Holeshot in both Pro Motos at Round 4 of the STI Quad X Racing Series at Glen Helen
Baron was unstoppable Saturday, taking the holeshot in both motos and cruising to victory. "I got off the line really well today," said Baron. "I got a good jump, rode smart, tried to make it difficult to pass, and I pulled it off. David was pushing really hard in the second moto, but he made a mistake, and it pretty much cost him the race."
H&M Motorsports' Beau Baron was able to hold off his teammate, David Haagsma, both motos to secure the 1-1 overall win
Haagsma battled Baron in both motos, but just couldn't make a pass stick. "He got a great start in both motos," said Haagsma, who with the runner-up effort is virtually assured his third STI Quad X title with a seventh point lead heading into the season finale. "There are a lot of split lines here, and I thought I could pass him, but I couldn't do it. I'd get right next to him, he held his line and I just couldn't get by him. I thought I had a run on him in the second moto when I went outside on the big hill. I came out of the corner and hit a square edge that knocked my hands off the bars and I hit a hay bale, so that pretty much ended my race. I made up some time, but I just couldn't catch him.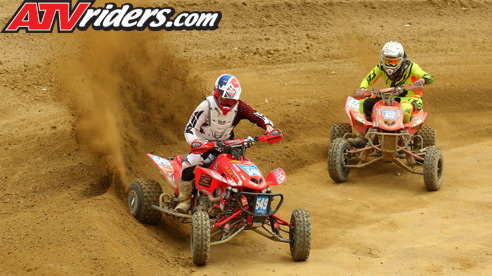 H&M Motorsports' David Haagsma challenged Beau Baron in both motos for the lead, but he wasn't able to make the pass
"He beat me in the last round, too," added Haagsma of Baron. "He always does well here and I'm always looking for a good race. It's good to keep getting points, and staying ahead. We're pretty secure going into the final event, so I'm hoping to just relax in the last race and battle it out with Beau."
H&M Motorsports' David Haagsma holds a 17 point lead over Kory Ellis heading into the season finale at Glen Helen on July 25th
::CONTINUED::