2012 Yamaha / Quad-X Racing Series
Round #6 & 7 - Glen Helen Raceway
San Bernardino, California
July 14 -15, 2012

Yamaha / Quad-X Racing - Rounds 7 – Glen Helen Race Report
::Continued::
Yamaha Quad-X Racing - Round 7 - Glen Helen Raceway
The battle between the Maxxis/H&M Motorsports team and the Yamaha team grew the next day for round number seven, but David Haagsma came out ahead and took another overall victory.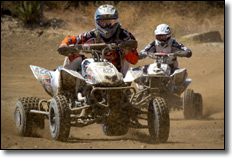 Spark's #422 David Haagsma finished in the 2nd spot in Moto One ahead of #549 Beau Baron

In the first moto, Haagsma was in third off the start and battled it out with his teammate for a while for second place. Once he took over the runner up spot, Haagsma put the hammer down and began to close in on Dustin Nelson, who was in the lead. Haagsma got close, but was unable to make a pass stick and took second place at the checkered flag. "Beau went wide in this one corner and I was able to get under him and get around. I was closing in on Dustin, but I ran out of time," said Haagsma.

For moto two, Haagsma was on a mission and charged off the line, grabbing the moto two holeshot. Haagsma increased his lead with every lap and took the checkered flag by over five seconds ahead of second place. Haagsma's impressive performance put him on top of the podium for the second time over the weekend and allowed him to narrow the points gap between him and Dustin Nelson.
Fly Racing 's #422 David Haagsma grabbed the Moto 2 and once again lead from start to finish to secure the overall win with a 2-1 finish, which moved Haagsma to within 11 points of Dustin Nelson in the points lead
Haagsma is now only 11 points off and could very well upset Dustin Nelson in the championship race if all goes well for him in the final rounds of the season."I have to thank Maxxis Tires, H&M Motorsports and all of our sponsors. I had a great weekend out there because of them and I hope I can finish the rest of the season on top of the box and give them a championship," said Haagsma.
Yamaha's Dustin Nelson was looking for a little redemption at round seven and after a brief battle with Beau Baron, he took the lead. Nelson stayed out front but came under pressure from David Haagsma. Nelson kept his cool and maintained his lead, taking the moto one win at the checkered flag.
Yamaha's #94 Dustin Nelson battled his way into the lead in Moto One to claim the Win
Nelson was hoping for a repeat in the second moto, but came under fire from Beau Baron. Nelson eventually dropped back to third, where he would end his moto. Nelson's moto one win, combined with his third place finish was enough to give him second overall for the day and maintain the pro points lead.