2012 Yamaha / Quad-X Racing Series
Round #6 & 7 - Glen Helen Raceway
San Bernardino, California
July 14 -15, 2012

Yamaha / Quad-X Racing - Rounds 6 – Glen Helen Race Report
::Continued::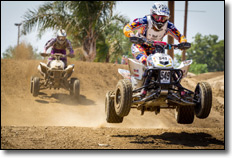 Maxxis' #549 Beau Baron took the Moto One Win with #422 David Haagsma in chase to the checkered flag

Maxxis/H&M Motorsports' Beau Baron was looking strong as he shot off the line in the first moto of round six and grabbed the holeshot. Baron was not alone however as his teammate, David Haagsma was close behind. Despite the pressure, Baron stayed focused and took his lead all the way to the checkered flag for the moto one win. "I felt really good out there. They made a bunch of changes to the track so it was a lot of fun and it just worked for me," said Baron.

In moto two, Baron was right on Haagsma off the start and stayed incredibly close for the entire moto. Despite his best efforts, Baron could not make a pass stick and finished in the number two spot, just inches from Haagsma's grab bar, giving him second overall for the day. "I tried to get by David, but I was eating a lot of roost and I just couldn't make it happen that time," Baron stated.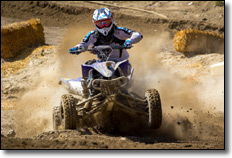 Yamaha's #94 Dustin Nelson went 3-3 for third overall

Yamaha's Dustin Nelson was in a solid third off the start for the first moto. Nelson stayed close for the first couple of laps, but began to drop back. Nelson stayed in the number three spot from start to finish for a third place finish. Moto two was a repeat for Nelson as he came off the line in third once again and held it from start to finish. Nelson's consistent 3-3 finishes allowed him to take the final spot on the pro podium.

Jason Fife stayed the course and took a fifth place finish in moto one, but he really came on strong in moto two and battled it out with Josh Row before taking over the number four spot, where he would finish. Fife's 5-4 finishes gave him fourth overall for the day.
#39 Jason Fife finished 5-4 for fourth overall ahead of #417 Josh Row rounding out the Top 5 overall
Yamaha's Josh Row was looking good in moo one as he claimed a fourth place finish, but he came under fire in moto two and dropped back for a sixth place finish, giving him fifth overall.
Lance Hancock hung on to take a sixth place finish overall and Colt Brinkerhoff, who encountered issues in moto two, finished seventh overall for the day.