2012 Yamaha / Quad-X Racing Series
Round #4 - The Ranch
Anza,California
May 6, 2012

Yamaha / Quad-X Racing - Round 4– The Ranch Race Report
H&M Motorsport's David Haagsma Takes 3rd Staight Win at Round 4
Yamaha / Quad-X Racing Series
"The Ranch" - Round 4


Hesperia,CA (5/8/2012) – Maxxis / H&M Motorsports' David Haagsma took his third straight overall win at round number four of the 2012 Yamaha Quad-X series and further increased his points lead over defending pro champion, Dustin Nelson, who took second on the podium, while Josh Row rounded out the top three for the day.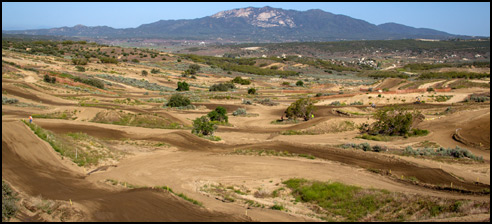 Round 4 of the 2012 Yamaha Quad-X Series was held at "the Ranch" in Anza, California, which one of the new tracks on the 2012 schedule
Spark's #422 David Haagsma grabbed the Moto One Holeshot & went on to secure the moto win

The Ranch, in Anza, CA was the hosting facility for round four of the Quad-X series. The track is quite sandy so horsepower plays a big part in who will come out on top, and it seemed that the Curtis Sparks backed Honda TRX 450R of David Haagsma had plenty of ponies to spare.

In the first moto, Haagsma grabbed the holeshot and led from start to finish despite pressure from Dustin Nelson in the first lap. While battles raged on behind him, Haagsma was free to pull away and cruise to the checkered flag. "Moto one went really good. I got the holeshot and I pulled away a bit. Beau was closing in a bit at the end but we ran out of time," said Haagsma.
H&M Motorsport's David Haagsma once again grabbed the Moto 2 Holeshot & lead from start to finish for his 3rd straight Overall win, which has boosted Haagsma (97 pts) to a 6 point lead over multi-time champion, Dustin Nelson (91 pts)
The second moto was pretty much the same story for Haagsma. The #422 Honda grabbed the holeshot and began to pull away. Haagsma again cruised to victory with a 14 second lead over the competition. "It feels really good to take another win. Dustin and Beau are tough competitors so I'm really happy about having the points lead, but it's still early in the season and anything can happen, but I really hope I can win a championship," Haagsma stated.
Yamaha's #94 Dustin Nelson battled with #549 Beau Baron in Moto One for several laps before Baron was able to make the pass with Nelson finishing in the 3rd spot
Yamaha / Goldenwest Cycle's Dustin Nelson got a good start in the first moto, in second right behind David Haagsma. Nelson soon came under fire from a charging Beau Baron and was locked into battle for several laps before falling back, in lap eight, to the number three spot. Nelson tried to remount a charge but was unable to take back second and settled for a third place finish.
Yamaha's #94 Dustin Nelson came back in Moto 2 to claim the 2nd spot for 2nd Overall

Dustin Nelson did not get the start he was hoping for in the second moto and came off the start outside of the top five. Nelson put the hammer down and charged his way through traffic. Nelson made his way into third by the second lap and began to chase down the leaders. In the third lap, Nelson made his way past Jason Fife and took over second place. Nelson began to close in on Haagsma, who was in the lead but ran out of time before he could make a move. Nelson's 3-2 finishes gave him second overall on the pro podium.

::CONTINUED::