2012 Yamaha / Quad-X Racing Series
Round #1 & 2 - Glen Helen Raceway
San Bernardino, California
March 10-11, 2012

Yamaha / Quad-X Racing - Rounds 1 & 2 – Glen Helen Race Report
Dustin Nelson Wins Saturday & David Haagsma Wins Sunday
Yamaha / Quad-X Racing Series
"Glen Helen" - Round 1 & 2


San Bernardino, CA (3/15/2012) – It was a double header for the season opener of the Yamaha Quad X series at Glen Helen this past weekend that saw Yamaha's Dustin Nelson take the round one overall win and newcomer, H&M Motorsports' David Haagsma, won the overall in round two.

Great weather was on tap for the season opener of the 2012 Yamaha Quad X series at Glen Helen Raceway. The season opener was a double header with round one on Saturday and round two on Sunday, making for a long, but fun weekend. Last season, Dustin Nelson and Beau Baron battled it out all season long, but that battle has tightened up this year, and along with the addition of David Haagsma in the mix, some exciting racing is sure to follow.

Yamaha Quad-X Racing - Round 1 - Glen Helen Raceway



Yamaha's Dustin Nelson took the first overall win of the 2012 Quad-X Racing Season at Glen Helen Raceway

Yamaha/Golden West Cycle's Dustin Nelson laid claim to the first overall win of the season as he goes for his record sixth Quad X pro championship. In the first moto, Nelson was in 5th off the start, but made his way into fourth after the first couple of turns. Nelson then made quick work of Joe Byrd, who was in third. "Joe was ahead of me and he is pretty tough to pass, but I got around him about halfway through the first lap," said Nelson.

From there, Nelson began to chase down leaders, David Haagsma and Beau Baron. Nelson soon caught up to Baron, who was in second and battled with him for most of the moto. Nelson was able to get around Baron when Baron went too wide in a turn and went off the track. Nelson was closing the gap on Haagsma, but ran out of time before he could get close enough to make a move and settled for the number two spot.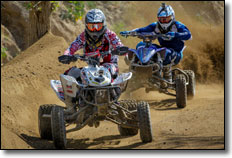 Despite starting fourth Dustin Nelson was able to catch #422 David Haagsma & Beau Baron to take the lead in moto 2

In moto two, Nelson was in fourth off the start and again made the pass on Joe Byrd in the first lap. Nelson then chased down David Haagsma and made the pass for second before pursuing Beau Baron, who was in the lead. "David made a mistake and I was able to get around him and two laps later, I got around Beau, but Joe Byrd was right behind me and he was pressuring me for the rest of the moto. He was right there when I took the checkered flag," said Nelson, who hung on to take the moto two win and the overall.

"It felt really good to go out there and win the first round. It really gives me a lot of momentum for the rest of the season," Nelson added.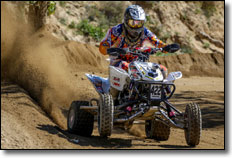 Curtis Sparks' David Haagsma grabbed the holeshot in Moto 1 & ran away with the win in Moto1 at Glen Helen

Maxxis/H&M Motorsports' David Haagsma was looking impressive in his first race of the season. Haagsma shot off the start in the first moto and grabbed the holeshot. "I had last gate pick, so I was way on the outside, but my Curtis Sparks motor was awesome this weekend and let me get out front," said Haagsma.

Haagsma was enjoying a nice four second lead as Nelson, Baron and Byrd battled it out behind him. Eventually Nelson caught up and was pressuring Haagsma. "Dustin was closing in, but I had a pretty good gap and he wasn't able to close in enough to make a move. It was a really good race and it felt great to take that moto win," said Haagsma.