2011 Yamaha / Quad-X Racing Series
Rounds 5 & 6 - Glen Helen Raceway
San Bernardino, California
July 9-10, 2011

Yamaha's Dustin Nelson Dominates Quad-X Racing Double Header
Yamaha / Quad X Racing Series - Rounds 5 & 6 - Pro ATV Race Report
Yamaha / Quad-X Racing Series
"Glen Helen" - Rounds 5 & 6


Yamaha's Dustin Nelson claimed both Pro overall wins at the Yamaha Quad X series double header at Glen Helen over the weekend, but MCR/Maxxis Tire's Beau Baron broke Nelson's moto winning streak, and joined Nelson on the podium in second.

Yamaha's Dustin Nelson had a perfect season going up until Saturday's round five of the 2011 Quad X series after a bad start in the first moto cost him his first loss of the season. An event held at Glen Helen the week before called for the removal of the concrete pad that racers usually launch from. The dirt that was left behind was loose and when the gate dropped all Dustin Nelson could do was spin his tires.
Maxxis' Beau Baron grabbed the Moto One Holeshot while Yamaha's #94 Dustin Nelson started at the rear of the pack after spinning his tires in the sand with the drop of the gate
#94 Dustin Nelson wasted no time charging his way through the pack on his way into 2nd place after passing both #39 jason Fife & #62 Jeremie Warnia

"I just sat there and spun. I got off the start in about tenth and I knew I had my work cut out for me because Beau Baron was out front and Jeremie Warnia was in second behind him," stated Nelson, who put the hammer down and made his way up to sixth by the end of the first lap.

Nelson knew in order to catch the leaders he had to take a big risk and hit the 120 ft. triple that no one had attempted yet in order to make up time. "I definitely had some butterflies the first time I hit it. I was fifth gear pinned and it was definitely a do or die jump," explained Nelson. Luckily for Nelson, the effort paid off and he was making up 3-4 seconds per lap by hitting the jump. Nelson was able to get around Warnia and caught up to Baron, but was not able to get by him.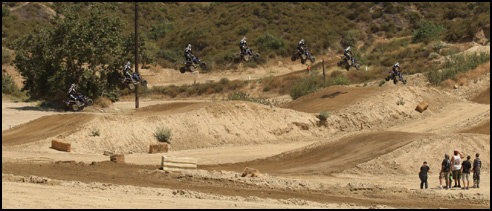 Elka's #94 Dustin Nelson made up 3 to 4 seconds a lap by clearing the masssive 120 ft triple jump, which allowed him to catch up to #549 Beau Baron in the lead
"I was right on his grab bar and I couldn't take the triple to pass him because he wasn't doing it and I was way too close to him and didn't want to risk trying to jump over him," said Nelson, who would have to settle for a second place finish behind Baron.
Maxxis' Beau Baron was able to block #94 Dustin Nelson was jumping past him over the triple jump to hold onto the lead for Beau's 1st Moto win of the season, which ended Nelson's perfect season after winning 8 straight Motos heading into Round 5