New England ATV Motocross
(NEATV-MX) Links

Clifford, PA (9/2/2014) - The New England ATV MX series headed to the mountains of central Pennsylvania for round nine of the series this past weekend where Hurricane Hills MX played host to the series for the second time this season. The weather was of the wet type with rain during all four pro and pro-am motos but that wouldn't keep the action at bay as the championships in both classes are coming down to the final few rounds.
NEATV-MX Racing Pro Podium (left to right)
Preston Young (2nd), Jayden Hickson (1st), Cody Paolella (3rd)

The Pro class was a mixed bag of battles as the skies down poured the entire first moto. RJ Machine / Elka Suspension / Walsh's Jayden Hickson got off to a slow start in the first Pro moto but worked his way through the mud and won the battle of attrition against many of the other racers as he took a third place in the first moto.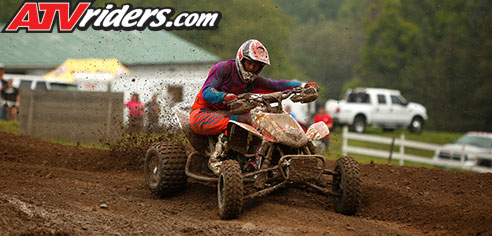 Jayden Hickson worked his way through the rain & the mud in NEATV-MX Pro Moto one to earn third place
Atlantik Apparel / Crankworx / Kempex's Jayden Hickson outdid himself in the Pro moto two however and came away with his best moto finish of the season and locked in his very first, first overall in the Pro class win in his NEATV-MX career. Hickson shot off the line in Pro Moto 2 with no mistakes and kept on the gas and was able to come away with a second place by the end of the eight laps. This gave him a 3-2 set of finishes for first place overall for the day.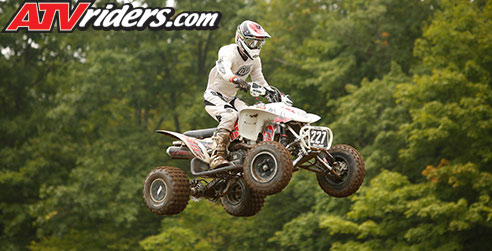 Jayden Hickson's 3-2 finishes were good enough to earn his first ever NEATV-MX Pro Career Overall win at Hurricane Hills
"It feels really awesome! It's been a long time coming and I'm really happy about it. I didn't get a moto win like I wanted but the overall is pretty awesome to have. We had a lot of mechanical issues the last couple of rounds and this round really washed them all away," said Hickson.
Fairway Farms / DASA / PRP's Preston Young came out of the first Pro moto holeshot with a third place spot behind Jon Glynn in second and Paolella who took the holeshot itself. Young applied pressure quickly to Glynn and stayed on him until he was able to slip by heading into the uphill section on lap two. Young then stayed clean the rest of the moto and came away with a second place ride for moto one.
Preston Young made his way into second place during lap 2. Young held onto the position until the checkered flag waved