Honda TRX 450R mounted Preston Young started the first Pro moto in third behind Tommy Lombardo and held a battle with him but made quick work in the third lap and moved into second. Young held Lombardo off for the next few laps, but made a mistake and slipped back into third, and would finish the first moto in third. "I felt really good throughout the whole moto, but made a mistake and Tommy was able to get by me," commented Young on the first Pro moto. In the second moto, Young had an awesome start flying into second off the line. Young held his spot for the first half of the moto before he began to feel the pressure of Southside's Travis Moore. Young was unable to hold off Moore and would slip into third, finishing the Pro moto in third for the day.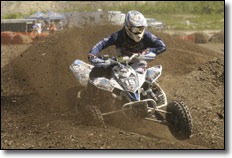 Tommy Lombardo placed second in Pro Moto 1 but just missed the Pro Podium overall finishing fourth in Moto 2
Lombardo Motorsports Tommy Lombardo ran two good motos in the Pro class. Lombardo started off the first moto in second behind Josh Creamer and had a tight battle trying to hold off Preston Young and Travis Moore. Unable to hold off Young, Lombardo would move back into third, but wouldn't give up and applied the pressure back on Young and made his moved back into second, finishing the first moto in second. Off the line in the second moto, Lombardo started in third and had a tight battle with Moore for most of the first half of the moto.
Lombardo held Moore off from making any moves for the first few laps, but then was pushed back into third when Moore found his line to make the pass. Lombardo would stay in third for the remainder of the moto and finish fourth for the day in the Pro class.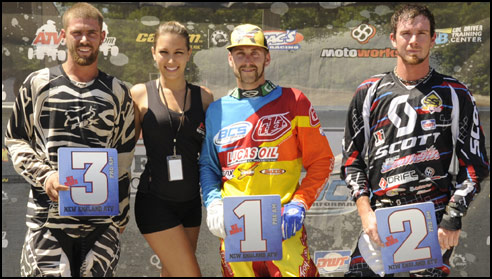 New England ATV Motocross Pro ATV Production Podium (Left to Right)
Preston Young (3rd) , Josh Creamer (1st), Travis Moore (2nd)
Maxxis Tire's Josh Creamer rode strong in his Pro-Am motos this weekend, starting off the first moto out in front with the holeshot and he seems to be getting the most out of his BCS Performance powered Can-Am DS 450. Creamer would make a great lead on the pack and finish out the first Pro-Am moto in first.

Josh Creamer grabbed both NEATV-MX Holeshots both the Pro-Am & Pro Classes aboard his BCS Performance Can-Am DS450 Sport ATV
His second moto would be a repeat of the first, and Creamer would finish the day 1-1, and take the overall in the Pro-Am class for the weekend. "I can't say enough good things about Jason and the crew at BCS Performance, and also everyone else whose helping me out, Maxxis, Fox, Walsh, Troy Lee Design, Smith, Lucas Oil, we really have a great team and plan to keep pushing forward," remarked Creamer.
#8 Josh Creamer went 1-1 to take the overall win in the NEATV-MX Pro-Am Class