NE EDT Racing - Round 4
Twisted MX
Milan, Michigan
July 2, 2016
NE EDT Racing Round 4 ATV Race Report
Brad Riley Wins Pro & Chuckie Creech Takes Pro-Am Win
2016 New East EDT Round 4
Twisted MX

Milan, MI (7/6/2016) - The fourth round of the Noel Property Maintenance / Schaeffer Excavating New East Extreme Dirt Track series headed north Twisted MX in Milan, Michigan. The new track had to be broken in, and came a long way in a short period of time, to become a race-ready course with a few ski jumps and an option-lane unlike any other they racers have seen. Brad Riley grew accustomed to the track quickly and was able to take the Pro win followed by Chuckie Creech in second place and Andrew Evanyke in third. However in the Pro-Am class, we saw Creech taking the win, followed by Tiffer Bures in second, and Michael Houghton in third place.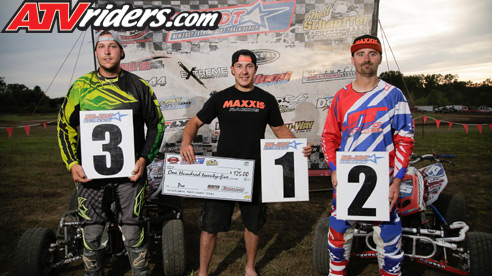 NE-EDT Pro Class Podium (left to right)
Andrew Evanyke (3rd), Brad Riley (1st), Chuckie Creech (2nd)
MAXXIS / DASA / PEP / O'Neal / Houser Racing's Brad Riley got off to an early lead in the B&B Racing Engine's Pro class by snagging the Deister Racing / Motor City Solution's Holeshot award ahead of the pack. Riley quickly put some distance between himself and the rest of the racers as they too, fought for positions behind him. It wasn't until about two-thirds of the way through the twenty-lap event that he felt pressure from behind in the form of Chuckie Creech. Riley came under attack with a few laps left but held his composer and made no mistakes and remained out front. Riley crossed the finish line with a couple of seconds to spare, taking home another Pro win for himself.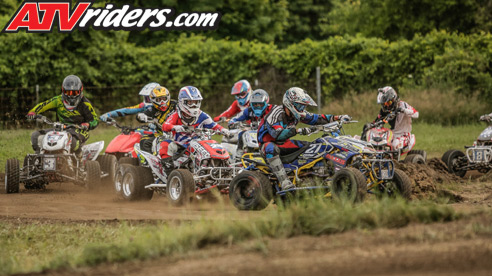 Maxxis' #27 Brad Riley grabbed the Pro Main Holeshot
"The track was pretty rough and had some slick spots and others that were really tacky and my MAXXIS tires hooked up great on all of it. I got off to the holeshot and started setting my pace early on and got out to a comfortable lead. Chuckie (Creech) got right up on me heading into a few of the corners but I was able to defend the spot and stay out front to take the win," said Riley.
DASA Racing's Brad Riley held the lead to claim his third straight Win
CCR Racing / Close Encounter Whitetails / MAXXIS / WISECO / RAGE ATV's Chuckie Creech had his work cut out for him after coming into the first corner in second place behind Riley. Creech was now the top-contender for the number one spot on the box and knew what he had to do to get there. Creech lost some ground early in the scramble of the race but was very quick to regain this same ground and was hot on the heels of Riley by mid-way of the race. Creech tried several times to get a wheel on Riley in various corners and even took the outside option lane trying to gain an edge. To no avail, Creech was forced to settle for second place however, but still remains hopefully for a repeat Pro championship by the end of the season.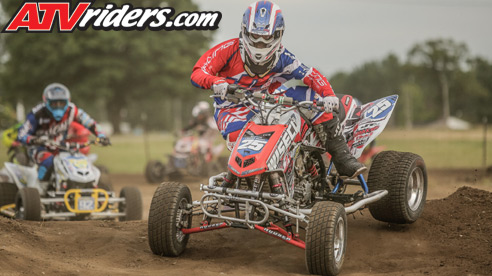 #25 Chuckie Creech scored a 2nd place finish in the Pro ATV class
FLY Racing / TSi Competition Engines / RATH Racing's Andrew Evanyke was on his game during the Pro main event and came from a mid pack start to battle his way into the top five and then eventually into a podium position in third place. Evanyke started out battling for position with Tiffer Bures and Michael Houghton who had third place locked down for the majority of the race. Evanyke was able to use the option lanes built into the track to his advantage and made a pass stick about three quarters of the way through the race. Evanyke snuck by both Bures and Houghton and locked down third place and was able to ride it out for the remainder of the event to bring home his best finish of the season thus far.
#3 Andrew Evanyke
Earnhardt Racing / The Program / Hoosier's Michael Houghton and Vechery Racing / MAXXIS / Tru-Way Racing's Brian Ace battled amongst themselves along with Tru-Way's Tiffer Bures. Houghton was able to hold down fourth place and Ace was able to get around Bures, sliding his way into the top five and bumping Bures down the sixth by the end of the twenty-lap race.
#92 Michael Houghton