NE EDT Racing - Round 3
Wadesboro Motorsports
Wadesboro, North Carolina
June 11, 2016
NE EDT Racing Round 3 UTV Race Report
Andy Stegall edges out Chris Mills for NE EDT UTV Open Win
2016 NE EDT - Round 3
Wadesboro Motorsports Park

Wadesboro, NC (6/14/2016) - Andy Stegall won the 2016 Pro UTV Open season opener for the New East Extreme Dirt Track ATV Racing Series held at Wadesboro Motorsports Park in North Carolina. Stegall beat out Chris Mills, Lee Pope, Payton Mills and Chris Stegall for the victory.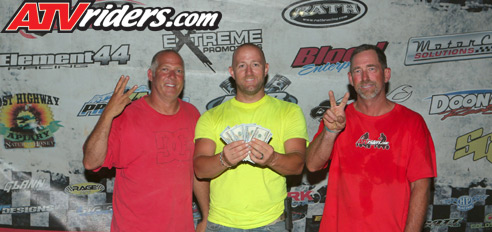 NE-EDT UTV Open Class Podium (left to right)
Lee Pope (3rd), Andy Stegall (1st), Chris Mills (2nd)
Addict Racing's Chris Mills snagged the holeshot at the beginning to event, held on the slick North Carolina clay, and was running away with the event. Unfortunately a brake pressure issue on the final lap put his RZR into limp mode, handing the lead to Stegan on the final straight away. Stegan barely edged out Mills to take the win and grabbed the $1,000 put up by Iron Horse Motorcycles of Monroe, NC.
Addict Racing's Chris Mills grabbed the holeshot in the UTV Open Pro class, which was the final race of the evening at Round 3 of the NE EDT Series held at Wadesboro Motorsports Park
"Chris is my best friend, so I had to beat him," said Stegan. "It was a fun race. At first, I didn't know exactly what was going on. I just knew he was having trouble, so I took my shot and did what I had to do. I can't say enough about my tire groover and my wife. If you find a woman that will groove your tires, you better marry her. This our home area and a good track."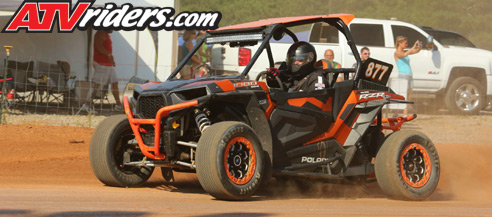 Andy Stegall was able to make a last lap pass on Chris Mills to take the win after an exciting battle for the lead
Mills, along with Robby Cox, built the race track to help cater to East Coast UTV and ATV racers. Though he finished second, Mills was happy with the turnout.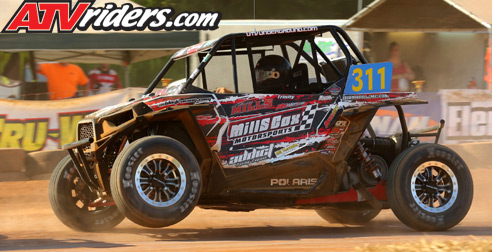 Joe Owen Motorsports' Chris Mills
"We had a good crowd and some great racing," said Mills. "It went into limp mode on the final lap from two-foot driving so I lost on the last lap. It was a photo finish and big congratulations to Andy Stegall. It's nice to be back in North Carolina. I missed North Carolina racing.
"Jim Osier with Addict Racing brought our trailer back all the way from Utah, so we could enjoy this event," added Mills. "Jim is a great guy. The Raceline wheels and Hoosier Tires worked well on the track. We lowered it down and changed the suspension. The car was fast. We just had some bad luck."
Pope hung on for third, battling Chris Mills' son Payton during most of the race.
Lee Pope was able to hold off Payton Mills in the Main event to claim the final spot on the podium
"The track turned out to be really nice," said Pope. "I'm not much of a high-grip racer, so I tried to do my best. I don't have any sponsors, so I'm doing it on my own dime. The biggest battle I had was with Payton Mills. I'm just upset I couldn't get a little closer to the leaders and run their pace."
::CONTINUED::