North East Extreme Dirt Track ATV Racing
Round 5
Oakland Valley Speedway
September 15, 2012
North East Extreme Dirt Track ATV Racing - Round 5 - Race Report
::Continued::
During the Pro-Am heat race earlier in the day, the crowd and racers alike, saw something that is very rare in the ATV racing community. #401 ESJ owner and NEEDT president was running in the top 3 as the racers churned down the laps and as Jennings came over the first single his head pipe cracked aboard his Yamaha YFZ450R. He would then come off the face of the next table and that's when the "heat" got turned up.
ESJ Graphics Owner & NE EDT President Eric Jennings Yamaha YFZ450 ATV caught on fire during one of the Pro-Am Heat races early Saturday morning
Jennings' head pipe would crack further and ignite a broken fuel line and would send his quad erupting into a giant fireball! The entire front end and middle of the quad would be consumed with flames within a matter of seconds as track officials scrambled to distinguish the flames from going any further. Needless to say, Jennings' quad would be rendered useless for the remainder of the race day but would see Jennings walk away from the track unscathed.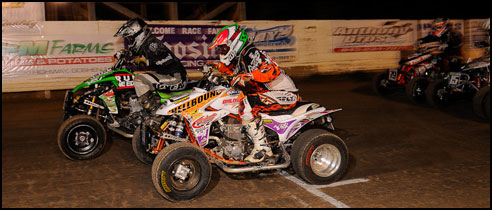 #6 Justin Frindt grabbed the NE EDT Pro-Am ATV Class Holeshot on his TSI backed Kawasaki KFX450 ATV
#338 PEP/Roberts Racing's Brian Ace would come off the line in second place behind the #6 of TSI / ESJ's Justin Frindt. Ace would then trail Frindt until a passing opportunity would come only a few laps later and would see Ace take the lead and charge on to take the win. Ace knew his Pro-Am championship ride was within grasp as he really laid into the throttle aboard his Maxxis tire's Honda TRX450R ATV.
#338 Brian Ace battled with #6 Justin Frindt for several laps before grabbing the lead before crossing the finish first in the Pro-Am ATV Class