2016 Midwest EDT Racing
Round #9 - McLeod Fairground
August 13, 2016

Midwest Extreme Dirt Track Round 9 Race Report
Rich Suter Takes Pro Win followed by Garret Keister & Josh Hibdon
Midwest Extreme Dirt Track Round #9 - Links

Hutchinson, MN (8/16/2016) -  Rich Suter won the Midwest Extreme Dirt Track Pro ATV race at McLeod County Fairgrounds. The event, which was co-promoted by ATV racing legend and Hutchinson native Daryl Rath along with MWEDT promoter Billy Clayton, was Round 9 of the 11-race MWEDT Series. Garret Keister finished second, ahead of Josh Hibdon, Daryl Rath and Taylor Peterson rounded out the top five.
Midwest Extreme Dirt Track Racing Pro ATV Podium
Garret Keister (2nd), Rich Suter (1st), Josh Hibdon (3rd)
Daryl Rath, his family and a group of volunteers worked tirelessly through the week to ensure the event could happen after heavy rains inundated the track. Everything came together with a slight delay in the program, and only minor shower during the racing action that was the perfect amount on water to cut the dust for the rest of the evening. The track was in near perfect condition at the start. It consisted of several single jumps, option lanes and a unique "Joker" lane, which was designed to level the competition. The lane was slightly longer than the regular racing line and everyone in the Pro Class was required to take it once during the Pro Main event.
Round 9 of MW EDT Racing Series attracted over 200 entries for the Hutchinson, MN event
In the Pro class, Rath was quick off the gate, snagging the holeshot and he went on to lead every lap. Unfortunately, Rath didn't take the Joker lane. So, though he finished first, he was penalized three places for the infraction and handing the win to Suter.
#67 Daryl Rath grabbed the holeshot & lead the pro main from start to finish, but he forgot to take the "Joker" lane, which dropped him back to a 4th place finish
"I feel bad winning that way, but it's still a win," said Suter. "I've wanted to come to Daryl's race for the last two years, so I made it a point to be here this year. This turned out to be my most memorable race ever."
Garret Keister said he had difficulty working his way through the tough field. His team has been making setup changes throughout the season, and was happy to see them come to fruition with the runner-up finish.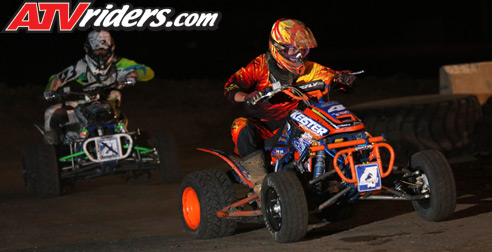 #4 Garret Keister charged his way to a 2nd place finish, which is his fourth Pro podium finish of the season & he is 3rd in Points
"The track got a little rough, but my Goldspeed Tires got me to a position where I could make some passes," said Keister. "It's nice to drive two or three hours and race with some of the fastest guys in the country. Billy Clayton is doing a great job promoting the series. We've had some ups and downs this year. We're going to try some new things for the last two races in Oklahoma and move forward. It's hard to be consistent with all of these fast guys out here."