MZM Performance's Kevin Cunningham started about mid pack off the start. After taking a few tumbles off his Honda 450R ATV, Cunningham was able to make several passed before crossing the finish in second place.
MAXC AA ATV Class Points leader Ryan Lane placed fourth at Round 8
#227 Johnathan Fugate took an impressive third place finish at his first Blingstar Mid America Racing Series race in the AA class aboard his Honda 450R ATV. MAXC AA Class points leader Ryan Lane would finish just outside the MAXC Round 8 AA Class podium in fourth place.
AMA Blingstar MAXC Adult ATV Overall Podium (left to right)
Kevin Cunningham (3rd), Adam McGill (1st), Brycen Neal (2nd)
No new comer to the Overall Adult ATV Podium, Brycen Neal would place second Overall on the Adult ATV Podium . Grabbing second in the Open A Class Holeshot, Brycen Neal made the pass to gain the lead and began to pick off racers until the finish placing first in the Open A Class.

#299Michael Garske grabbed the Open A Class Holeshot followed closely by Fly Racing's #17b Brycen Neal at Blingstar AMA MAXC Round 8
"I felt it was the best track we have ridden on so far. Me and Kevin (Cunningham) hooked up and battled. I feel real good about my points standings and I think if I lock up the next one I should lock up the championship, then I hope to move up to the Pro class" said Jet Suspension's Brycen Neal.
#17b Brycen Neal placed second overall & finished first in the Open A Class
Placing second in the Open A Class was #386 Braden Nichols from Hamilton, IN who sits second in the Open A Class points. Rounding out the final spot on the Open A class podium was #26 Billy Patton from Bloomfield, IN.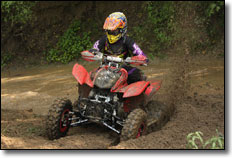 #553 Cory Silverthorn continued his winning streak at MAXC Round 8
Blingstar AMA MAXC 13-15 300cc 4 Stk Quad points leader #553 Cory Silverthorn took his fourth consecutive win at Round 8 Rally in the Valley. Placing second in the 13-15 300cc 4 Stk Quad class was #22 Trevor Spencer followed closely by #21 Ben Renard from Gosport, Indiana in third.
Blingstar AMA MAXC Racing Series will head to northern Indiana round 9 of the 10 round series in Culver, IN on October 13, 2012.