#17B Brycen Neal won the Open A Class & also took the final spot on the Afternoon Overall Podium in third
A new comer to the Afternoon Overall Podium was #17B Brycen Neal. Neal was able to grab the win the Open A Class and take the final spot on the overall podium aboard his Honda 450R ATV. Neal ran one of the quickest lap times of the day matching AA Quad Class winner Ryan Lane.
"The track was defiantly dusty, and I really liked the Motocross track. The track really flowed well and I had a ball out there trying to chase them down" stated Brycen Neal.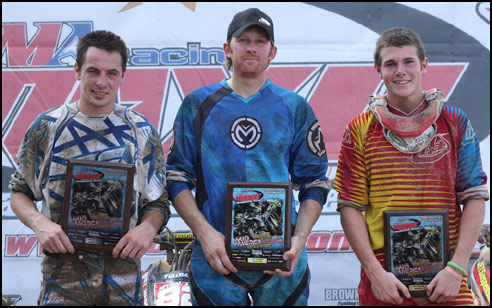 AMA Blingstar MAXC Afternoon ATV Podium (left to right)
Kevin Cunningham (2nd), Ryan Lane (1st), Brycen Neal (3rd)
#30 Fred Marley from Osgood, IN and #385 Braden Nichols rounded out the Open A Class podium at Lincoln Trails Motorsports MAXC Round 3.
In the B 15-24 ATV class #41 Ben Krafft from St. Joe, IN took the win followed by Honda rider #93 Michael Marley, and #430 Kellan Alspaugh in third.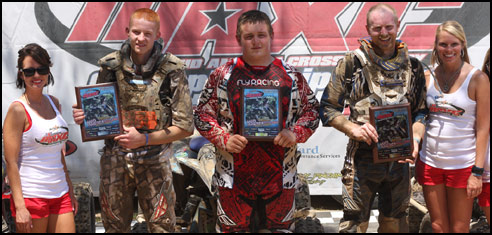 AMA Blingstar MAXC Morning Overall ATV Podium (left to right)
Eric Kroger (2nd), Jacob Ripley (1st), Cody Fox (3rd)
#328 Jacob Ripley took the win in the C 15 -24 Class with a time of 1:51:48. Ripley was joined on the podium with #911 Eric Kroger and #814 Cody Fox who placed first and second.
| | |
| --- | --- |
| | |
| #328 Jacob Ripley grabbed the Holeshot & the win in the C 15-24 Class | Jet Suspension's Eric Kroger placed second in the C 15-24 Class |