Matt Bartosek Celebration Race
10th Annual Event - August 26, 2012
Maple Shade MX - Sugar Grove, PA

By: Garrett Hamilton
Baldwins's Josh Upperman Wins the Final Bartosek Celebration Race
::Continued::
Motoworks' #88 Joel Hetrick battled through the mud in Moto One to secure the 2nd spot behind Upperman

#88 Can-Am / Motoworks' Joel Hetrick would come away with a 2-2 finish on the day after battling it out in both the extreme mud and then dry conditions. For moto one, Hetrick would come off the line just barely being edged out by Josh Upperman. Hetrick would then keep his distance as the mud flew but would later set his sights on the rear grab bar of Upperman. As the laps and time ticked away Hetrick poured on the coal and the pair increased their lead over the rest of the pack by over 15 seconds. Unfortunately for Hetrick, the mud and visibility would dampen his ability to make a solid pass for the lead but would settle in for a respectable 2nd place for the first moto.
DWT's #88 Joel Hetrick applied the pressure to #20 Josh Upperman in Moto 2, but Hetrick was unable to make a move for the lead & finished 2-2 for 2nd Overall
As moto 2 rolled around it was a near identical start for Hetrick as he tucked into second place once again off the line. This time, the track was in near perfect racing condition as the moisture had subsided from the rocky Maple Shade MX soil. The conditions greatly improved passing opportunities out on the track and allowed Hetrick to get within striking distance of the lead position. Once again he would come up just short of the position but would be able to walk away with a second place finish on the day going 2-2.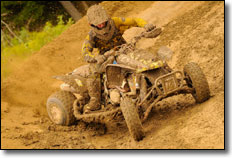 #726 Tyler Hamrick battled his way to a 3-4 finish for a Top three finish

The #726 entry of Tyler Hamrick would make the short jaunt from Ohio to race in this year's event and would pull off a 3rd place finish after blasting his way through the mud in moto one to a third place finish and then would slip back one in moto 2 for a 4th place finish putting him 3-4 for third place overall edging out Derek Swartfager who would bring home 4th place overall with a 7-3 finish and fellow Ohio racer Justin Hanusosky who would finish out the top 5 with a 5-7 finish for 5th place overall.

Hamrick would come off the line in an 8th place start but would put the hammer down on his Baldwin Motorsports' Honda and slip his way up to a 3rd place finish for the first moto after battling in the mud.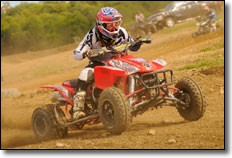 #26 Derek Swartfager got off to a better start in Moto 2 to claim a 3rd place finish & went 7-3 for 4th Overall

Moto two for Hamrick would go a bit different as he would come off the line in the 5th place position behind the Floridian #55 Brian Johnson. Hamrick would make fairly quick work of Johnson and move his way up to the 4th place position which would secure him the 3rd place overall for the day. After a ten year run, Debi Bartosek has decided it is time to retire the Matt Bartosek Celebration Race, but the original #88 will forever live on in the hearts of everyone that was fortunate enough to know Matt Bartosek.