Matt Bartosek Celebration Race
7 th Annual Event - August 30, 2009
Maple Shade MX - Sugar Grove, PA

By: Shane Hartman
Dustin Wimmer Takes Home the Bartosek Celebration Win
Doug Gust & Josh Upperman Podium - Don Edwards Win Motowork Can-Am DS450
Matt Bartosek Celebration
7 th Annual - Links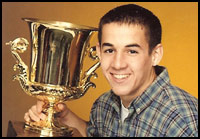 Matt Bartosek (1983 - 2003)

Suger Grove, PA - The seventh annual Matt Bartosek Memorial race might be a single event, however the memorial fund that allows national races to receive medical attention at the track, charges on throughout each season. The annual event and memorial fund honor the life of fallen up and coming pro rider, Matt Bartosek. Riders would once again be punching a Northwest Pennsylvania address into their GPS units as Mapleshade MX would return as this year's host. The track would undergo little to no changes since last years running. The most significant change would be a large table top that would prove to be a challenge to downside for even the best riders. Various elevation changes, low flying tabletops, high speed straightaway's build the tracks character.

The 7th Annual Matt Bartosek Celebration ATV Motocross Race was once again held at Maple Shade MX Track in Sugar Grove, PA
As many from the region know, any chance of rain usually means rain. Saturday's scheduled practice would be canceled in hopes to keep the track sealed and allow the water to run off. With an open day ahead of them, racers, friends and family began were able to take time and visit with one another one last time as the season comes to a close. Fierce games of cornhole, let's pause for definition: A beanbag-like game, where a bag is filled with corn feed and thrown in a hole, began to spring up at many campsites. The Saturday evening cookout returned and fed over 200 hungry mouths. 300 pieces of chicken, six rounds of beef, 15 dozen ears of sweet corn, and plenty of side dishes filled plates and stomachs. As the temperature descended, it reminded racers that their season was coming to a close.
Many of the Top Pro ATV Racers came out for the Bartosek Celebration including Dustin Wimmer, Pat Brown, Rocco Arno Jr, Doug Gust, Greg Gee, and Josh Upperman

A sunny morning would be a relief to riders as they began to suit up to hit the track. The premier Pro-Am class would obtain the most entries of any class with a full 21 rider gate vying for the $5,000 purse in a two moto 20min +2 lap format. Once again attracting many of the fastest Pro and Pro-Am riders from different parts of the country, it would surely be something not worth missing.

Leading off the line up would be National champion, Dustin Wimmer, along with his Suzuki teammate, Doug Gust. Josh Upperman, Pat Brown, Thomas Brown, Greg Gee, and Rocco Arno added to the pros in attendance. Up and coming pro riders like Joel Hetrick and Chase Snapp would make things interesting when they would hit the track for the first time with their future competition.