GBC Heartland Challenge UTV Race Report
Cody Miller Takes GBC Heartland Challenge UTV Overall Win
2016 GBC Heartland Challenge Links

Carlisle, IA (8/28/2016) -Maxxis / Can-Am's Cody Miller carried over the spectacular success he's experienced in the GNCC series this season by claiming the overall UTV win in the GBC Heartland Challenge. It marked Miller's first victory in the grueling four-hour endurance event, driving a Can-Am Maverick Turbo. Jason Luburgh drove his Bikeman Performance Polaris RZR to a second-place finish, ahead of former X Games Supermoto racer Matt Burton and his RZR. Hunter Miller was fourth, followed by Michael Swift and Kevin Trantham in a Polaris.
GBC Heartland Challenge 4 Hour UTV 1000 Class Podium (left to right)
Jason Luburugh (2nd), Cody Miller (1st), Matt Burton (3rd)

The GBC Heartland Challenge has always been a showcase of the top SXS racers in the country, and this year's ninth annual race didn't disappoint. With 69 total entries, and 44 cars in the top UTV 1000 class, the race also featured a $3,000 check for the overall winner, as well as $500 bonus for each class winner from RT Pro (formerly RacerTech). The track featured a typical cross country course as in year's past, as well as the RT Pro Challenge section, which shortened the course, but challenged riders with broken concrete, tires, telephone poles and a huge dirt mound.
The 2016 GBC Heartland Challenge had 69 Team entries in the UTV competition, which was just one more than the ATV teams
With heavy rain in the forecast, the organizers pushed up the start time by two hours, but the race still featured a good mix of daytime and night time racing. Starting in a three row Grand Prix style start, Kyle Chaney took the holeshot and appeared well on his way to the win. Meanwhile Hunter Miller began reeling in Chaney and took the lead with Luburgh, and Cody Miller in tow. After a stunning five-lap shootout, Cody Miller took the lead for good on the final lap.
Can-Am's Cody Miler charging past his pits during the 4 Hour GBC Heartland Challenge
"My Can-Am Maverick Turbo was running strong and my Maxxis Tires were hooking up," said Miller. "Jason Luburgh and I had a couple of good battles. We caught up to Kyle Chaney and the battle was on with Jason, Kyle and my brother all within seconds of each other. After five laps of hard battling, I came out in the lead on the last lap. The car held up great. I clipped a couple of trees out there that would have ripped the front off of any other car. But with the Houser products, Elka Shocks, DWT Wheels and Maxxis Tires, it really held up. I can't say enough about Can-Am. They put out a great product. This is my third time coming out to the Heartland Challenge and we were finally able to pull it off."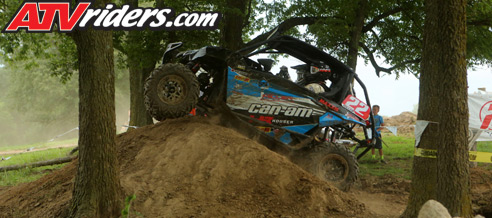 Maxxis' Cody Miller saved time each lap by taking the RT Pro Challenge section
Miller had a test of his forearm strength during the first half of the race after his car suffered electrical gremlins that short-circuited his power steering. However, once he solved that issue, he was virtually unstoppable.
"It made it very difficult to drive," explained Miller. "I changed the fuse and it only lasted a few seconds. So I kept pulling into the pits to try to find out what was wrong. About two hours in, I cut the wires to the rear taillights and taped on a couple of glow sticks. That ended up fixing the problem. After that, I put in a hard charge. I found the best lines without power steering. Eventually it came around."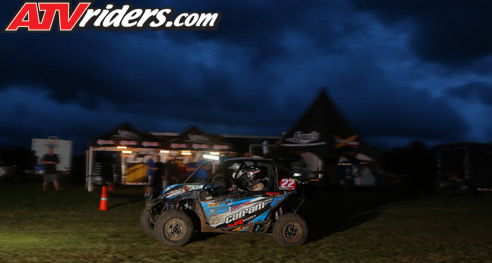 Houser Racing's Cody Miller is having a career best year of UTV racing by taking the GBC Heartland Challenge Win & leading the GNCC UTV Points heading into the final 2 rounds
Miller said the Heartland victory is part of one of his greatest seasons on record. Miller is currently dominating GNCC XC1 UTV competition with two wins, two additional podiums and a 31-point lead going into the final two races of the season.
SSi Decal's Cody Miller took home $3,000 for his Open UTV Win along with an extra $500 Gift Certificate from RT Pro
"This season has really been a golden one for me," said Miller. "My brother and I went all in to GNCC. We put everything we had to prove we could go out and win some championships. This is icing on the cake for what we're doing over in GNCC. I'm going to do my best to win the GNCC championship. If I do, it will be the biggest accomplishment of my racing career."