GBC Heartland Challenge ATV Race Report
Team Yamaha Takes 10 Hour ATV Overall Win
2016 GBC Heartland Challenge Links

Carlisle, IA (9/5/2016) - Certain things can always be taken for granted: the sky is blue, the sun rises in the east and sets in the west, and Team Yamaha will win the GBC Heartland Challenge. That truism came to fruition again this year as Johnny Gallagher, Walker Fowler and Cole Richardson handed Yamaha its seventh victory in the AA ATV class in nine years. Team Puppy Power with riders Randee Prindle, TJ Campbell and Hunter Van Patton finished second on Honda's, and Team Got Wood Racing rounded out the top three.
GBC Heartland Challenge 10 Hour ATV AA Class Podium (left to right)
Puppy Power (2nd), Team Yamaha (1st), Got Wood Racing (3rd)

With rain the night before, as well as the morning of the race, the track came in perfectly for the ATVs, just as it had the night before for the SXS racers. Though the race started an hour late due to the overnight rain, which shortened the race slightly, with 68 entries taking the start, the race was competitive throughout its nine-hour, 25-minute run.
The 2016 GBC Heartland Challenge had 68 Team entries in the 10 Hour ATV competition & they all started at the same time in a LeMans Style Start shortly after 2PM on Saturday
The track was similar to year's past with its normal cross country type layout. But the real test was handed down by GBC in its "Challenge Section." The short-cut section featured unprecedented obstacles--including broken up concrete, dirt mounds, and telephone poles--that confounded every racer at least once during the race.
So dominant was Team Yamaha's race that they finished seven laps ahead of their nearest AA Class competitor. But the statistics don't stop there. It also marked Gallagher's fifth victory in seven starts, as well as Fowler's sixth win, and Richardson set the fastest daytime lap at 11:01 and night lap at 11:13.
#1 Walker Fowler
"This is our first 10-hour experience where everything went flawlessly," explained Fowler. "The three Yamaha machines were perfect all day. We tried a different strategy by putting Johnny out first when the track was smoother. He's a speed specialist. It was a good move. I went second and Cole went third. It's all about having fun and everyone just killed it today. It was fun as always. This is our third in a row and we're seven for nine for Yamaha. The track shaped up awesomely. Andy did what he had to do to give us a good track.
"The Challenge section was a lot harder this year," added Fowler. "We actually skipped it early on to avoid hurting the bike. It was gnarly, but it was just another fun aspect of the race."
Johnny Gallagher was tapped to start the race. With his typical comic style, Gallagher explained how the team came to that decision. "With all of the rain last night it was unanimously decided, without my consent, that I would start," joked Gallagher, "I didn't put up and argument and it worked out great. I had a decent start and it worked out great. I had to work hard to get up to the lead, but once we got up there, we just started clicking off laps and led all day. It's fun to win it again. GBC is the catalyst for making this event happen and it's grown into the biggest off-road endurance race in the Midwest."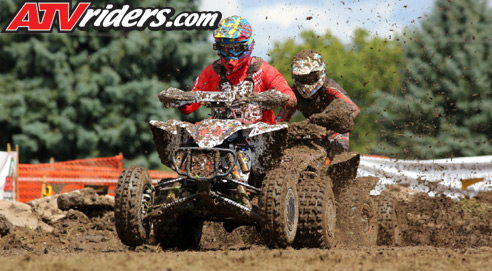 The mud specialist, Johnny Gallagher, started the race for Team Yamaha