GBC Heartland Challenge Polaris ACE Race Report
Torey Rush Takes Impressive Win in Stock Polaris ACE
GBC Heartland Challenge Links

Carlisle, IA (9/7/2015) - Torey Rush only entered his first Polaris ACE Race here for a little more seat time and came out with a win in the single-seat race, part of the GBC Tires Heartland Challenge. GNCC Racing regulars Josh Copeland and Jesi Stracham rounded out the Podium.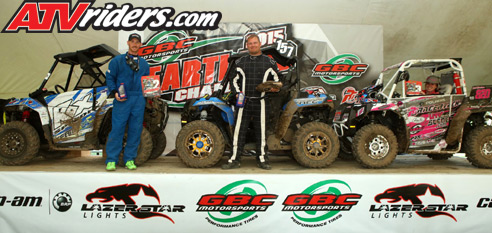 GBC Heartland Challenge Polaris ACE Podium (left to right)
Josh Copeland (2nd), Torey Rush (1st), Jesi Stracham (3rd)

The unique 1.5-hour race was held just outside Des Moines, Iowa, and it was the longest race of its kind to date for the Polaris ACE racers.
Rush admitted he'd never competed in a Polaris ACE before. In fact, the UTV 1000 racer had never even sat in one, but he wasn't new to racing, and it showed as he quickly adapted to the Polaris ACE and ran away with an impressive victory. Rush $1000 in accessories from Polaris for this big win.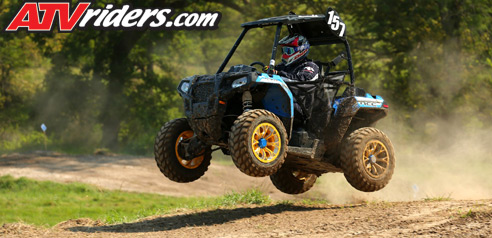 Torey Rush launches the Polaris ACE on the way to victory at the GBC Heartland Challenge
"We run the UTV 1000 class, and wanted to get some more seat time so we grabbed a brand new ACE off the showroom floor and came here," said Rush about his Heartland Challenge win. "The course was awesome. Going in through the trees and down through the flats, there was something different around every corner. It was really a confidence inspiring how well the machine worked. We're really excited about the Polaris bonus. We figured the trip would cost more than it would make us, so to have a bonus like that is really cool."
UXC Racing's Josh Copeland claimed a 2nd Place finish in the Polaris ACE at the GBC Heartland Challenge
Copeland and Stracham battled throughout the race "Jesi was there for quite a while," said Copeland. "Every time I looked, she was right there. She really kept me on my toes. I like the longer format. I hope GNCC will switch to this format. The course was great. There were fast sections, rough sections, and it wasn't dusty."
Racer Tech's Jesi Stracham challenged Josh Copeland for the 2nd spot early in the race
After nearly taking the holeshot at the start, Stracham, who is paralyzed from the waist down and uses hand controls, rolled her ACE while battling for second. Race promoter Andy Kyner, who was also competing in the race, got her righted and going again. She gained time and finished third.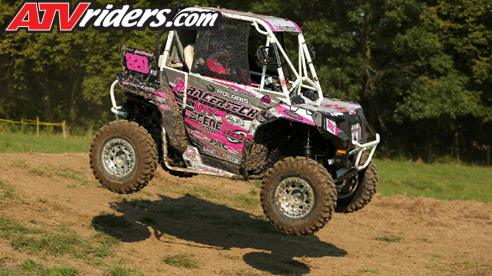 GBC Motorsport's Jesi Stracham rounded out the Podium
"We had some issues with the steering wheel; It kept lifting up on me," said Stracham. "I just blew a turn and rolled over. It's not a big deal. I'm used to wrecking and rolling. It was an awesome race. This track was amazing. Once we got the steering figured out, I was just gaining time. I love racing again; I forget I'm paralyzed when I'm out there."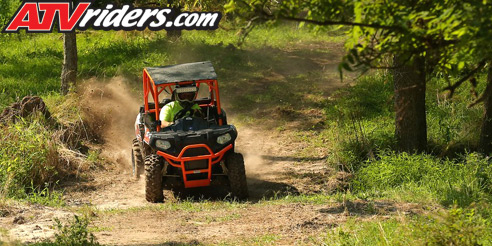 GBC Heartland Challenge Promoter, Andy Kyner, put in some laps in his Polaris ACE during the race
With a new 900cc Polaris ACE being offered by Polaris for 2016, this class will only get bigger in the future.