GBC Heartland Challenge ATV Race Report
Team Yamaha & Team UXC Racing Take Big Wins
GBC Heartland Challenge Links

Carlisle, IA (9/17/2015) - Team Yamaha dominated Saturday's GBC Heartland ATV race. The event, originally scheduled for 10 hours, was shortened at the seven-hour mark due to thunderstorms. Johnny Gallagher, Cole Richardson and Walker Fowler, pocketed $5,000 for the victory. Team Elka's Brian Wolf, Wesley Wolfe, and PJ Denault finished second, ahead of Team MZM's Josh Beach, Cole Setser, Brandon Nichols.
GBC Heartland Challenge AA Class Podium (left to right)
Team MZM (3rd), Team Yamaha (1st), Team ELKA (2nd)

The GBC Heartland Challenge 10 Hour ATV endurance race is held just outside Des Moines, Iowa each August during the Iowa State Fair. The six-mile course ran through woods and open fields and also included The GBC Challenge Section, which included a mixture of logs, dirt mounds, concrete piles, and rocks. The section acted as a short cut on the course, but it came a risk of getting stuck or damaging equipment, which played into the strategy of many of the race teams.
The 8th annual GBC Heartland Challenge had another great turn out as the event attracts more racers each year
The Le Mans-style start kicked off at 1 p.m. The more than 70 teams lined up by class on a straightaway and the racers ran at the sound of the horn and get on their ATVs. It was a 25-yard dash across the hot pits, and Team #21 Derisi Racing / TireBlock's grabbed the holeshot ahead of a dusty start to the race, but that would change dramatically by the evening with thunderstorms moving in shortly after sunset, which ended the race early for the first time in its eight-year history it was called for weather.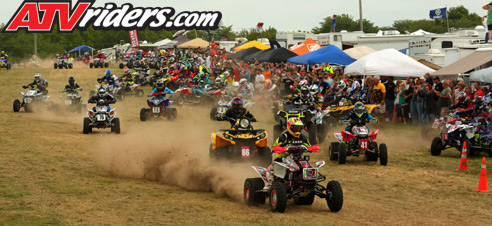 Team #21 Derisi Racing / TireBlock's grabbed the Holeshot in the LeMans style start with the #66 Team Can-Am Pro 4x4 in chase
Richardson started the race for the Yamaha squad but lost the lead when the team had to swap ATVs in the pits on the first lap. They quickly regained the lead from the Elka team on lap two. From there, the team wasn't seriously challenged to net Yamaha its second consecutive victory and third win in the last four years here.
#1 Cole Richardson hammering through the logs & tires in the GBC Challenge section of the course
Richardson said the competition was strong. "This is an awesome event," said Richardson. "Everyone was keeping us honest out there. It definitely would have been interesting if we had kept going."
#1 Walker Fowler