Wild Boar GNCC Polaris ACE Single Seat Report
2016 GNCC Racing Single Seat Race Report
2016 GNCC Racing
Wild Boar - Round 1


Palatka, FL (3/7/2016) - Maxxis' Robert Boynton won the season opening Ace single seat race part of the Wild Boar GNCC. UXC Racing's Torey Rush finished second, followed by Dillon Harper, Sam Yokley and Jesi Stracham.

The event was held on a traditionally tight and tough course. With beautiful weather in the area, the racers took on the rough and gnarly racing surface comprising sand, and lots of mud.
GNCC Racing Polaris Ace Single Seat Podium (left to right)
Torey Rush (2nd), Robert Boynton (1st), Dillon Harper (3rd)
Boynton and Rush battled throughout the race, before Boynton made a move stick in the woods section late in the event. From there he cruised to victory.
Robert Boynton scored the Win at the GNCC Racing Season Opener
"I saw the leader run a pretty creative move," said Boynton. "I tried a new line and we touched a little bit and I took the lead. He rolled in front of me and I went right under his tires. It was a very adventurous day."
Rush fell back to second at the end, but was happy to start the season with a podium finish.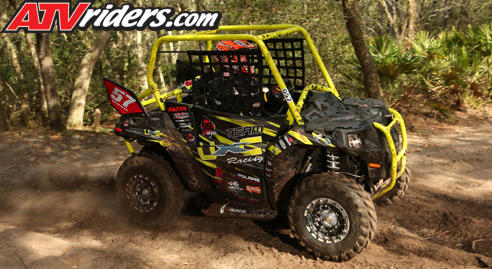 UXC Racing's Torey Rush finished in the 2nd Spot
"There was some really tight passing here," said Rush. "Robert got me in a tight place in the trees. I can't thank Polaris Factory Racing enough."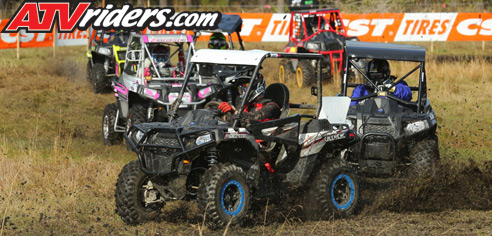 After a 4th place start, Dillon Harper claimed the final spot on the GNCC Racing Season Opener Podium
Yokley took the holeshot and was leading, but fell back when he tipped over and had to right his machine. He rebounded to finish fourth.
Defending GNCC Single Seat Champion, Sam Yokley, grabbed the holeshot, but he rolled over, which dropped him back to 4th place
"It went great, as usual," said Yokley. "I was leading, but I tipped it over and had to get it righted and get back in. From there, I just finished. I'm not a big fan of the sand here, but the machine is really working great."
Stracham, who is paralyzed from the waist down, returned to Racer Tech this year. She piloted her hand-control equipped ACE to fifth in the final order.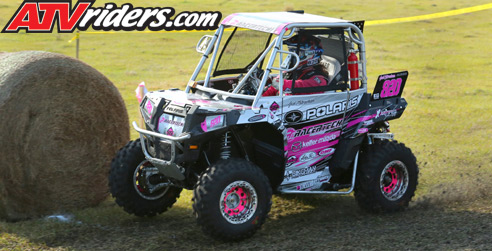 Racer Tech's Jesi Strachman is back for a full season of GNCC Racing & she rounded out the top five at the Wild Boar GNCC
The Ace Class will be back in action April 16-17 during Round 4 of the GNCC series at Big Buck Farm in Union, SC.