While Indiana's Kevin Cunningham topped the morning overall podium in the non-points paying Sportsman A/B class, it was once again GT Thunder's Dave Simmons with the morning overall win. Second overall went to U2 class winner UXC Racing's Clif Beasley, and third overall was former Women's class champion Angel Atwell, who grabbed her fourth Women's class win and her second overall podium of the season.
GNCC 4x4 Podium (left to right)
Jordan Phillips (2nd), Cliff Beasley (1st), Tanner Bowles (3rd)
Beasley topped the 4x4 podium, just ahead of U2 runner-up Jordan Phillips from North Carolina. After winning the 4x4 Novice division earlier in the season, West Virginia's Tanner Bowles entered the Open class for the second time this season and was able to take an impressive class win, as well as the final spot on the 4x4 podium.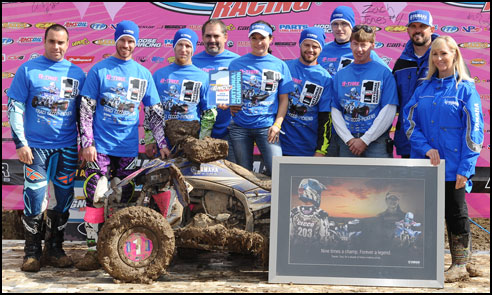 Yamaha's Traci Cecco-Pickens was awarded her 9th Women's Championship at the Iroman GNCC in Crawfordsville, Indiana
The morning podium concluded with two of GNCC Racing's most accomplished racers announcing their retirement. One of the sport's top 4x4 competitors, Cliff Beasley, was the first to announce his retirement on the morning podium. Soon after, 9-Time champ Traci Cecco accepted the Women's class championship plate before announcing that 2012 will be her final season as a full-time racer as well. Congratulations to both racers on a very long and successful career in ATV racing!
The 90 Open (12-15) division once again dominated the ATV Youth overall, as South Carolina's Zachary Jones (APX) grabbed his fifth overall win of the season. Defending Youth champ Hunter Hart (COB) finished second overall, followed by Ohio's Cody Collier (YAM) in third.
Team Polaris National Guard took the overall win the the 2012 SxS championship at the Ironman GNCC Round 12
The final round of Side-by-Side competition took place on Saturday, where Team Polaris National Guard took the overall win and claimed the 2012 championship. Heading into the final round, Coastal National Guard held a three-point advantage over their Polaris teammates, but a few issues on the course ultimately placed Coastal National Guard in fourth overall and outside of championship status. Jacks Excavating 3 took second overall for the day and Team Big Country Powersports rounded out the XC1 Modified podium. Team Jacks edged out Team Travalena in the final moments of racing to claim the XC2 class win.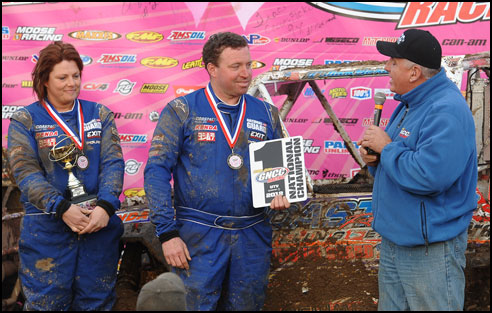 William & Tina Yokley take the podium for winning the Ironman SxS Overall & the 2012 SxS / UTV Championship
The 2012 Can-Am Grand National Cross Country Series returns to action November 3 and 4 for the Parts Unlimited Loretta Lynn's GNCC, where bikes race on Saturday and ATV's on Sunday. For more information, go to www.gnccracing.com.
Ironman GNCC Pro & Pro-Am ATV Top Ten Results

XC1 Pro Results:
XC2 Pro Am Results:

Walker Fowler (YAM)
Jarrod McClure (HON)
Chris Bithell (CAN)
Chris Borich (SUZ)
Taylor Kiser (YAM)
Kevin Yoho (YAM)
Johnny Gallagher (YAM)
Craig Bowman (HON)
Jeff Pickens (YAM)
Mark Notman (HON)

Braden Henthorn (HON)
Michael Lancaster (HON)
Nathan Wallpe (HON)
Joshua Merritt (YAM)
Jonathan Fugate (HON)
Jordan Gilkerson (HON)

Blake Kramer (YAM)
Tyler Bostock (HON)
Parker Jones (HON)
Matt Hanna (YAM)