Bowers/Coastal National Guard/Yokley Racing's Jarrod McClure ran fifth for a majority of the race but McClure took advantage of Borich's misfortune as he moved into the fourth place position on the final lap.
Spider Graphix' Brain Wolf had a great start & was running top three until he fell back & battled with #7 Jarrod McClure & #3 Taylor Kiser crossing the finish in fifth
But it wasn't without a fight from fellow Ohio rider Brian Wolf. With one lap to go, Wolf and McClure turned it up a notch and put on one of the most exciting battles of the day. McClure ultimately bested Wolf for fourth, while Wolf took home a solid fifth place finish.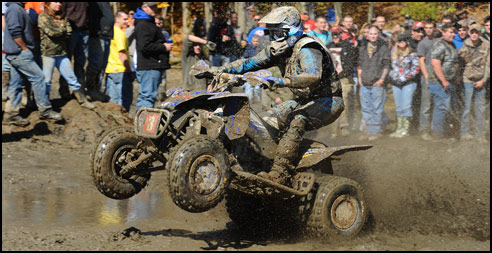 Ballance Racing / Yamaha's Taylor Kiser placed sixth at Powerline Park GNCC
It wasn't a desirable day for Ballance Racing Yamaha's Taylor Kiser, who never made it ahead of fifth place all afternoon. Kiser's sixth place finish gives Fowler a bigger advantage in the overall point standings. GBC/Cernics/HMF/Yamaha's Johnny Gallagher continued his top 10 streak alive as he finished seventh behind Kiser. BNR's Kevin Yoho ran into some mechanical issues on the final lap, ultimately finishing eighth place. Ohio's Mark Notman had a standout performance in his home state, finishing ninth place in the XC1 division, just ahead of Craig Bowman, who rounded out the top 10.
GNCC XC1 Pro ATV Podium (left to right)
Walker Fowler (2nd), Adam McGill (1st), Chris Bithell (3rd)
DeRisi Racing's Braden Henthorn landed his third win of the season in the highly competitive XC2 Pro Am division. Henthorn was able to match points leader Pat McGuire's number of wins this season, but it's still McGuire who holds the overall lead in the XC2 championship standings.
DeRisi Racing's Eric Hoyland was eager to go racing as he jumped the start a little too early before shooting to the first corner in the lead. Hoyland was held for a 30-second penalty at the end of Lap 1, therefore giving McGuire the MotoSport.com Holeshot Award by default aboard his Tireballs-backed machine.