2015 EDT Racing
Round #2 - Wadesboro, NC
Perimeter Park Motorsports
May 30, 2015

Brad Riley Wins EDT Racing Pro & Pro-Am Classes
Extreme Dirt Track Racing ATV Race Report - Round Two
Extreme Dirt Track Racing
Round #2 - Links

Wadesboro, NC (6/17/2015) - After an exciting opening round of the 2015 AMA Extreme Dirt Track ATV Racing series on Friday May 29th at Perimeter Park Motorsports track, racers returned to the track on Saturday for the second round of the double header weekend, and once Again, Two Se7en Motorsport's Brad Riley was unstoppable as he charged his to the front in both the Pro and Pro-Am classes for a solid start to the season. WISECO / RAGE / Elka Suspension's Chuckie Creech finished right behind Riley in both races in the second spot. Finally, Brian Ace scored three podium finishes on the weekend with a third place finish in the pro class.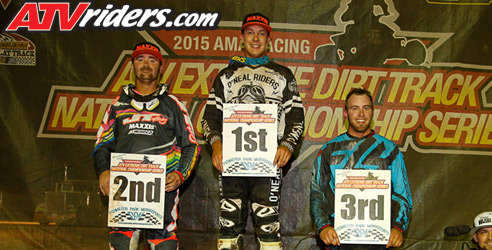 Extreme Dirt Track Pro ATV Podium (left to right)
Chuckie Creech (2nd), Brad Riley (1st), Brian Ace (3rd)
It was another picture perfect day for racing for Round 2 with nearing ninety degrees with sunny skies, and MAXXIS / PEP / Houser Racing's Brad Riley was ready to shine as he came out of the holeshot in third place behind Brian Ace who grabbed the holeshot after the red-flag restart because a rider jumped the start. Riley hammered on the throttle and pressured the pair of Ace and Creech up front until one of them slipped into a mistake or opened up a sliver of a spot, so Riley could sneak around them. As soon as he saw this opportunity, he pounced on it and was able to get around Ace who had been battling with Creech for the early part of the race. With Riley being behind Creech for several laps, he was able to study his movements and lines and also put a pass on Creech shortly after passing Ace. Once out front, Riley stayed true to his talents and remained on the gas to complete the twenty lap race in first place, his third first-place finish of the weekend!
#1 Brad Riley charged his way to the front to claim back to back Pro ATV Wins at the double header season opener
"I spun the tires a bit off from the start and came off third place, I got behind Ace for a few laps and then slowly reeled in Chuckie and battled it out for several laps and I put a few different moves on him that didn't work and found a few ways of passing him and finally made it stick. I got a little bit of a lead and held that all the way to the finish line. Tonight's track was a bit more race-ready than last night and was a lot of fun to run on. The big berm seemed to be one of my best spots for improving my position, but I tried every single part of the track for the pass. Luckily I got out front and was able to hold onto first place and I'm happy with that," said Riley.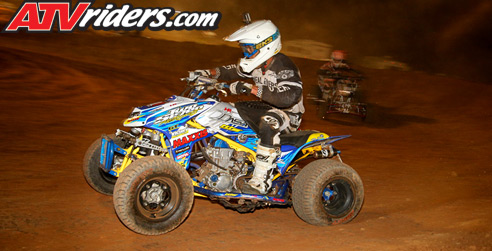 #1 Brad Riley
CCR Swaybars / WISECO / Houser Racing's Chuckie Creech got off to an even better start than Riley and was the first on the scene to contend with Brian Ace, the holeshot winner. Creech applied strong pressure early on in the race and was able to catch Ace in a corner and make the pass and move into first place. Creech's race wasn't over however as he had about three quarters of the race left to run and had Riley slowly moving in on his rear grab bar as well. Once Riley got around Ace as well, the race was on and Creech came under heavy pressure. Unfortunately for Creech, he got bumped back to second place as Riley moved his way to the front of the pack. Creech settled for second place on the Pro podium but was happy with a solid weekend and a good start to his season.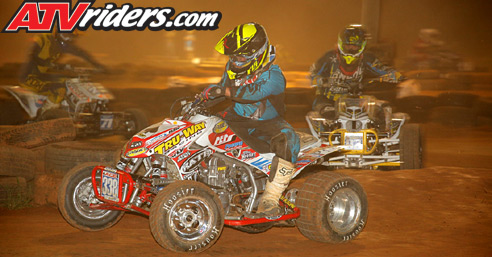 #25 Chuckie Creech claimed the 2nd Spot on the Pro ATV Podium