2015 EDT Racing
Round #1 - Wadesboro, NC
Perimeter Park Motorsports
May 29, 2015

Brad Riley Wins EDT Racing Pro & Pro-Am Classes
Extreme Dirt Track Racing ATV Race Report - Round One
Extreme Dirt Track Racing
Round #2 - Links

Wadesboro, NC (6/4/2015) - The 2015 season of the AMA Extreme Dirt Track ATV Racing series kicked off this past weekend at a brand-new facility located in the Western part of North Carolina, in the small town of Wadesboro. The track; Perimeter Park Motorsports is a new facility brought together by a husband and wife duo, Ashlee and Nolan Scarborough, who have a passion for racing and put together a beautiful facility for the opening double-header of the series. The weather itself, was even nice for the entire weekend and allowed the racing action to heat up immensely with temps nearing ninety degrees with sunny conditions!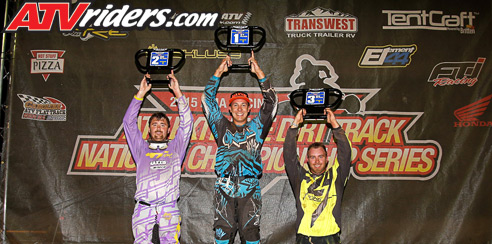 Extreme Dirt Track Round 1 Pro Podium (left to right)
Chuckie Creech (2nd), Brad Riley (1st), Brian Ace (3rd)
2014 EDT Racing Pro ATV Championship, Two Se7en Motorsport's Brad Riley, was rocking a red number plate this weekend with the number one on it. He had to do battle with thirteen other pro class racers throughout the day, but ended up coming away with the win in both the Pro and the Pro-Am classes to hold onto his red plate.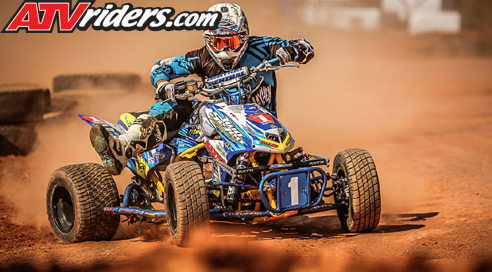 Brad Riley was running his Red #1 Plate at Round One
MAXXIS / PEP / Houser Racing's Brad Riley was off to a killer start of the Pro main event as he dropped the lever on his Rekluse clutch and got out front with a big holeshot! Riley was trailed closely by Chuckie Creech and Michael Houghton who were sitting in second and third place. By the end of lap one, Ace had moved up into third place and the chase was on for Riley as he had to set his own pace out front. Riley is no spring-chicken of this sport and he knew the North Carolina red clay like the back of his hand. He got into a comfortable rhythm and began to put smooth laps together, even over the increasingly rough surface. Riley came away with the number one podium position and was happy on the top of the box.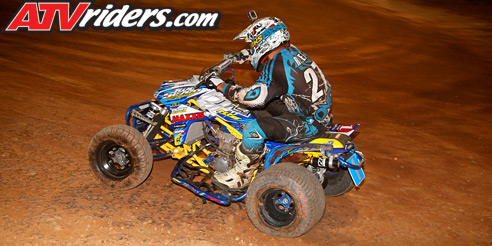 #1 Brad Riley charged his way to the front to claim the Pro Main Win
"Everything came together for me tonight and I've been working on my starts a lot since early last season and I was able to get out front early which was key as this track is fairly one-lined. The big berm area was a lot of fun and I was able to carry some speed through that section and made up a good size gap on the guys behind me. My MAXXIS Tires and DASA motor were putting the power to the ground through the PEP suspension and I was really hooked up and hitting my marks, it was a great race," said Riley happily.