2012 AMA Racing
ATV Extreme Dirt Track Nationals
Round #7 - Goldsboro, NC
Busco Beach Speedway
August 31, 2012

Hoosier's Harold Goodman Wins, Secured Pro ATV Championship
::Continued::
#25 Chuckie Creech claimed the 2nd spot on the podium

#25 DFR/Roberts Racing's Chuckie Creech came off the line with a second place holeshot but was closely guarded by #3 Lance Martin who would be waiting if by chance Creech would slip up. To the rest of the pack's demise, Creech held true to his speed and accurate form and walked with a second place finish on the podium. "My quad was hooked up really good off the start of the race with my Turtle engine and PEP shocks. I came off the line behind Brad and just rode my own race and stayed with him for the rest of the time," said Creech.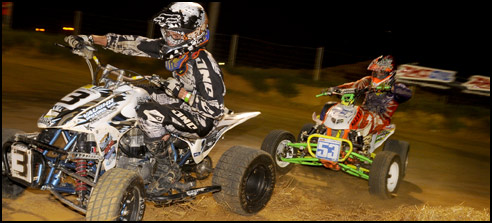 #53 Kirby Cooke made the early pass on #3 Lance Martin to take over the 3rd spot, but Cooke wasn't able to catch Creech
#53 Maxxis Tires' Kirby Cooke would get back on the box for round 7 after a few tough rounds of racing. Cooke came off the line in the top five and would hold on for a third place ride fending off a few charges by Wolff Motorsports' Nathan Wolff.
"We changed a lot of things on the bike and I was able to come out here and hold on for a good finish on the box. My Maxxis tires worked really good on this track even though it was really slick and was horrible on the tires. I'm happy to be up here and can't thank my sponsors and supporters enough for helping me out," said Cooke.
Extreme Dirt Track Pro-Am Unlimited ATV Racing Podium (left to right)
Chuckie Creech (2nd) , Brad Riley (1st), Kirby Cooke (3rd)
#71 Custom Axis / Walsh's Nathan Wolff would come away with a 4th place ride after getting off the line in a less-than-ideal spot. Wolff would then charge his way past numerous riders before the checkered flag flew.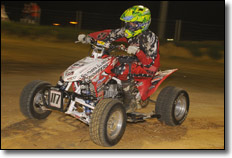 #117 Jared Huilling rounded out the Top 5 in the Pro-Am Unlimited Class

#117 Southern Illinois Choppers / DASA / Fly's Jared Huilling got off to a great start coming out of the holeshot in the 5th place position, which he would then hold on to for the remainder of the race. Round 7 saw a lot of hot action and hot weather, but round 8 was coming up the next day and with even warmer temps pushing near triple digits, racing action and tempers are sure to flair as the points battle heats up to the climax! Be sure to check right back here on ATVriders.com for round 8 of the 2012 Extreme Dirt Track ATV Racing series