2012 AMA Racing
ATV Extreme Dirt Track Nationals
Round #7 - Goldsboro, NC
Busco Beach Speedway
August 31, 2012

Hoosier's Harold Goodman Wins, Secured Pro ATV Championship
::Continued::
#338 Hellbound Racing's Brian Ace would come off the line in good form fending off Riley and tucking in behind the #53 of Kirby Cooke and #038 Michael Coburn. Ace would be able to catch a break near the midway point of the race when Coburn and Cooke would get tangled and sent flying off the track. This would allow Ace to move up to second place and pursue the hard charging Harold Goodman. Ace would then soon come under fire from Brad Riley who was on a mission to the front and would force Ace to settle for a 3rd place finish in the Pro class.
Roberts Racing's #338 Brian Ace was able to hold off the hard #038 Michael Coburn to secure the final spot on the Podium for his 2nd straight Pro podium finish
#038 Michael Coburn finished in the 4th spot

#038 Michael Coburn would come off the line in second place charging in behind Harold Goodman. Coburn would be able to hang on for a 4th place finish even after getting tangled with Cooke earlier in the race and having to restart on a red flag. Coburn would then mount a charge to retain his third place running order but would eventually get bumped back a spot as Riley worked his way up to second place resulting in Coburn finishing in 4th.

"My quad felt really good, we made some adjustments and it was running great. After the restart I kept up my pace and just rode my race. My Hoosiers along with the Walsh/PEP setup was really working great as well and got me off to a great start," said Coburn.

#6 of Justin Frindt would round out the top 5 of the pro class. He would do battle aboard his Kawasaki KFX450R, the only one in the class. Earlier in the day he would take home an 8th place finish in his heat race but would get a better start and finish out in 5th for the pro main.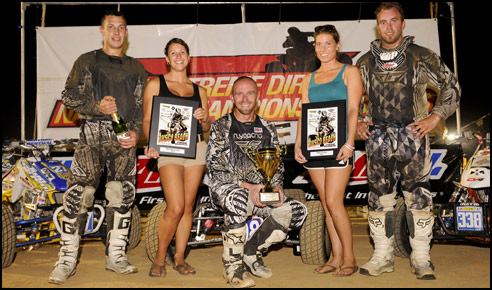 Extreme Dirt Track Pro ATV Racing Podium (left to right)
Brad Riley (2nd), Harold Goodman (1st), Brian Ace (3rd)
Pro-Am racing was heated as well as it would see Harold Goodman once again come away with the victory followed by North Carolina's own Brad Riley and Chuckie Creech in 2nd and 3rd respectively.
#708 Elka Suspensions' Harold Goodman was no stranger to the holeshot at the beginning of the night as he would come off the line in perfect form aboard his Honda East Toledo TRX450R and come away with the lead.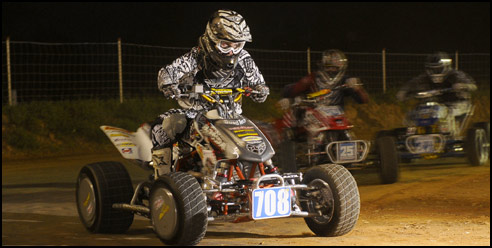 Rage ATV's #708 Harold Goodman once again grabbed the Pro-Am ATV holeshot followed by #25 Chuckie Creech & #27 Brad Riley
Goodman would go uncontested for much of the earlier part of the race as the riders behind him jockeyed for position. Once Riley was around Creech the fire burner got kicked on high as Goodman would feel the pressure as the #27 was waiting at every turn. Fortunately for Goodman his speed and accuracy would prevail on the slippery, sandy track of Busco Beach and he would come away with another 1st place finish for the evening.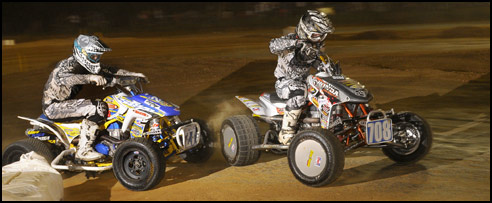 DASA Racing's #27 Brad Riley was all over Houser's #708 Harold Goodman in the lead, but Riley wasn't able to make the pass & settled for the 2nd spot on the Podium