2012 AMA Racing
ATV Extreme Dirt Track Nationals
Round #5 - Ashtabula, OH
Pine Lake
July 21-22, 2012

AMA Extreme Dirt Track Pro ATV Race Report
::Continued::
DASA Racing's Michael Coburn, who crashed during practice on Friday, was in fifth off the start in the Pro main event. "I wheelied a little off the line, but I was able to make a couple of passes and move into third after a bit," stated Coburn.
PEP's #038 Michael Coburn claimed the final spot on the Podium
Coburn tried to close the gap on Goodman and Riley, but ran out of time before he could get close and settled for a third place finish. I still had a good race and a good weekend. There was an awesome turn out for this race. I think there were almost 450 people, which is a lot for our series," said Coburn.
Extreme Dirt Track Pro ATV Racing Podium (left to right)
Harold Goodman (2nd), Brad Riley (1st), Michael Coburn (3rd)
Chuckie Creech had a good start for the Pro race in the number four spot, but was under immediate pressure from Michael Coburn. Creech eventually fell back, but was able to mount a charge and make a pass on Nathan Wolff for a fourth place finish.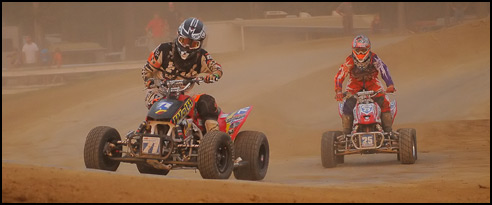 #71 Natahn Wolff started out in the 2nd spot & he would go on to round out the top 5 behind #25 Chuckie Creech
Nathan Wolff had a good start in second behind Harold Goodman, but he was under pressure from Brad Riley right away. Wolff held off Riley for a couple of laps, but fell back to fourth place. Wolff then battled with Chuckie Creech and fell back to the number five spot. Wolff battled back and was pressuring Chuckie Creech, but could not make a pass and settled in to round out the top five overall.

In the Pro-am Production class, Harold Goodman was looking good as he grabbed the holeshot and never looked back. Goodman led from start to finish, taking the Pro-am Production win.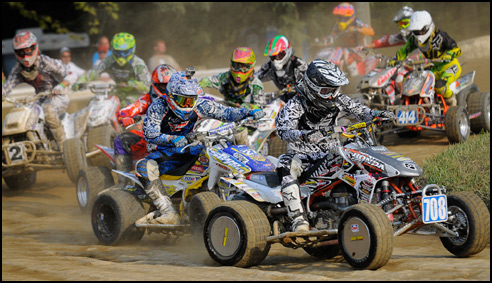 Rage ATV's #708 Harold Goodman once again grabbed the Pro-am holeshot followed by #27 Brad Riley & #25 Chuckie Creech
"I had a really good race. Brad was back there the whole time, but I was able to keep a steady gap and take the win," said Goodman.