2011 AMA Racing
ATV Extreme Dirt Track Nationals
Round #5 - Ashtabula, OH
Pine Lake
July 23-24, 2011

Rage ATV's Harold Goodman & Kirby Cooke Win at Pine Lake
2011 ATV Extreme Dirt Track Pro & Pro-Am Race Report
Extreme Dirt Track ATV Racing
Round #4 - Links

Ashtabula, OH - It was a winning weekend for Rage ATV's Harold Goodman as he claimed victory in both the Pro and Pro-am classes, while Rage ATV's Kirby Cooke took the win in the Pro-am Unlimited class at round number five of the 2011 Extreme Dirt Track series.

The Ashtabula round is always the most popular round of the series and a favorite track of racers, which is a boost for attendance and provides for some incredible racing action. Despite some rain that fell on Friday and Saturday, track conditions remained good, and the track dried out nicely. The good conditions allowed Harold Goodman to take control and come out ahead at the end of the day.

Sparks Racing's #038 Michael Coburn grabbed the Pro ATV Main Holeshot
As racers left the line for the Pro class, Harold Goodman was in fifth place, but got a good line going into the second turn and moved into second place behind Michael Coburn. Goodman shadowed Coburn for a few laps and was able to make a move in the second lap when Coburn went wide coming out of the bowl in turn one.
Rage ATV' s #708 Harold Goodman makes the pass #038 Michael Coburn in the lap two to take over the lead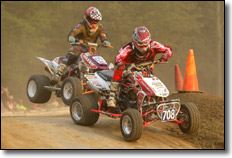 Hoosier's Harold Goodman held off the hard charging #53 Kirby Cooke

Once out front, Goodman was able to pull away from Coburn, but he soon was feeling the pressure from #53 Kirby Cooke. Cooke shadowed Goodman all the way to the checkered flag. Goodman's win extended his points lead over reigning champion, Michael Coburn.

"It was a good race. I didn't get the best start, but I was able to move up quickly. I got around Michael after a few laps but then Kirby Cooke caught up to me and was pressuring me, but I just stayed focused and I was able to hold him off. Overall I'm pretty happy with how the weekend went and I was able to extend my points lead a bit, so it all worked out well for me," said Goodman.

Kirby Cooke was running exceptionally strong all weekend and came up from a top five start to challenge Michael Coburn for the number two spot. The pair battled furiously, but Cooke would eventually get by after Coburn suffered a blown shock. Cooke would then pull away and catch up to Goodman. Cooke pressured Goodman but was unable to make a clean pass and settled in to finish in a solid second place.
#53 Kirby Cooke's Maxxis Tires were seriously hooking up at Pine Lake as he charged his from a 5th place start into the 2nd spot right behind Harold Goodman
"Everything went great for us this weekend. We're working with a new NASCAR based company, JRi Shocks; they have been awesome to work with and they really had us set up good for this weekend. Our suspension and the Maxxis Tires really helped out there," said Cooke.
Rage ATV' s #53 Kirby Cooke chased after #708 Harold Goodman for nearly the entire Pro Main, but he just wasn't able to make the pass before the checkered flag