ATVA ITP Moose Racing
National Motocross Series
Round #14 - Ballance Moto X
September 2-3, 2006



By: David Screws - ATV Racin' Extra
"Running Ragged"
---
ATVA Motocross Nationals
Round #14 - Links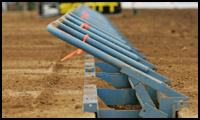 Bowling Green, KY - A commitment is a commitment. Some racers commit to a series but have no intentions of running all the rounds. Others make a commitment and thru persistence and perseverance somehow manage to make all the rounds of a series. Even when that series is spread from the West Coast to the East Coast and all points in-between and consist of a grueling, grinding, wallet gouging, weekend after weekend, month after month, seemingly endless wave of highways, fast food, and the best racing in the nation. You, as well as I know that by the end of the season they're not only running on empty but running ragged as well. Below we pay homage to the few, the proud and the brave amateur and youth class racers who made every round of the 2006 ITP/Moose Racing ATVA National Motocross Series. They were a mere handful of amateurs, only 5 people in 5 separate classes, two of which ran two separate classes. There are a total of 19 amateur classes. (This excludes the Pro, Pro/Am and Youth classes.) There were also five in the youth classes. Out of the eight youth classes run at the MX Nationals, only five youth racers participated in every round in a total of four different classes. AMATEURS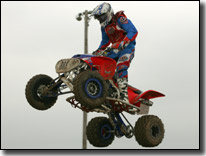 #888 Ryan Sowers

Ryan Sowers of Zanesville, Ohio didn't finish first in the 265-A class. He took an overall 4th in the points standings when the season came to an end. One thing he didn't do was quit, give up, or miss a round. Gazing down his finishes on the season, he consistently finished within the top ten in the class at each round and managed on three occasions to round out the top three in the class.

One would never expect to see a couple of guys by the same first name meeting and greeting each other every time they opened the gates to an ATVA National MX event all season long. But, Matthew Bremer and Matthew Butler did. Running in the 4-Stroke B and Production B classes (these are the two who ran two separate classes all season long at each and every round), Bremer took back to his home state of Florida a national championship in both classes. Butler, a Virginia based racer, held consistent with numerous top five and podium finishes in the 4-Stroke B class and finished up the season in 4th overall in the national standings. His performance in the Production B class clicked his ranking up a notch. Butler finished 3rd overall in the standings when all 14 rounds were tallied and all throw outs were out the door.
| | |
| --- | --- |
| | |
| #111 Matt Bremer | #51 Matt Butler |
Most guys who run in the Plus 25 class have jobs, families and responsibilities out the ying-yang. So does Dane Heilman of Richland, Indiana but, be that as it may, he was the only racer in the 25 Plus class to make all the rounds. His record of wins in this year's MX Nationals would impress any would be racer approaching the Plus classes. With wins in all but three of this year's events, Heilman will step up tall and proud at the banquet to accept his national championship trophy.
| | |
| --- | --- |
| | |
| #7 Dane Heilman | #1 Heather Byrd |
Heather Byrd, wife of 2006 ATVA National Motocross Champion Joe Byrd, was not only right by his side all season long as he struggled to win his first ever championship, but, she was on a championship mission herself. After claiming the National Women's MX title in 2005, she battled all season long with Angela Butler to see who would nab the Women's crown this year. Byrd fell short by a few points but rallied in the glory of her husbands championship. YOUTH
Neal McGrath of Bradenton, Florida came so close to a Youth Production (13-15) championship he could not only smell it but he could almost taste it. Losing the top overall series position by two points, yes, two points to arch on-track rival Richard Lindsay, McGrath proved that persistence and consistency can and will put you on the podium if you've got the race stamina and parents who are willing to sacrifice.
| | |
| --- | --- |
| | |
| | #93 Bren Marra |
In his inaugural debut on the national circuit, Bren Marra of Bordentwon, New Jersey had great runs at the MX Nationals and a few not so great runs. When the tallies were all said and done, he'd netted eight wins in the 90 Production Senior (12-15) class and had won a national championship for himself and his family in what proved to be a competition escalating experience for Marra and the other competitors in the 90 Production Senior brigade.

Marra wasn't the only one on a crusade in Production Senior as he was joined by the Laurine Sister's (Kristy & Kelsey) from Amity, Pennsylvania. These young ladies weren't going to be intimidated in a male dominant class as they put in consistent finishes race after race with Kristy securing a fourth place finish and Kelsey finishing out the year also in the top ten with a ninth place finish in points.
| | |
| --- | --- |
| | |
| #68 Kristy Laurine | #281 Kelsey Laurine |
#99 Jeremy Ledonne

What can you say about a youngster who runs two classes in the MX Nationals and brings down a fourth place finish in one class and a second place finish in another class. The only thing you can say is that Jeremy Ledonne of Glenshaw, Pennsylvania and his parents made one heck of a commitment to the MX Nationals and followed through. Ledonne finished 4th in the highly competitive 70 Production (6-11) class and 2nd in the 50 Production Auto (6-8) class.

So there they are, the few, the proud, the weary five who made them all. Our helmets are off and we salute Ryan Sowers, Matthew Butler, Matthew Bremer, Dane Heilman, Heather Byrd, Neal McGrath, Bren Marra, Kristy Laurine, Kelsey Laurine, and Jeremy Ledonne.

They are true...ATV troopers.