ATV Pro Challenge Motocross
in Memory of Caleb Moore
Underground MX
October 5, 2013

Cody Taylor Takes SxS Win at ATV Pro Challenge Motocross
Curtis Kirchmeier and Cody Miller round out the SxS Podium
2013 ATV Pro Challenge MX
in Memory of Caleb Moore
Kemp, TX (10/8/2013) – The ATV Pro Challenge Race in Memory of Caleb Moore featured more than ATV motocross racing; Saturday evening brought an exciting SxS Race. Cody Taylor won the SxS class in his Polaris RZR XP 900 followed by Curtis Kirchmeier and Cody Miller.


2013 ATV Pro Challenge Motocross Podium (left to right)
Curtis Kirchmeier (2nd), Cody Taylor (1st), Cody Miller (3rd)
The SxS race featured a thirty minute moto with a rolling start. Interestingly, they also had a NASCAR style caution mid-way through the race and brought everyone back together and re-started them. The track was a sand and clay mixture, and the track utilized some of the motocross track, but most of it was alongside the big jumps with some mud holes, mulch piles, and woods thrown in to mix it up, which made for some exciting racing action.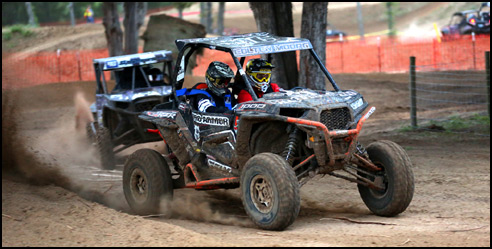 Caleb Moore's brother, Colten Moore, held the lead for the first half of the race in the Polaris RZR XP 1000 with Cody Taylor right behind him
Cody Taylor may be new to SxS racing, but he looked like a seasoned pro when he took the win in his Polaris RZR XP 900 SxS. Taylor's race began with a battle against Colten Moore. The two were within a second of one another for the first seven laps. One lap eight, Taylor made the pass to take over the lead and worked hard to put time in between him and Moore.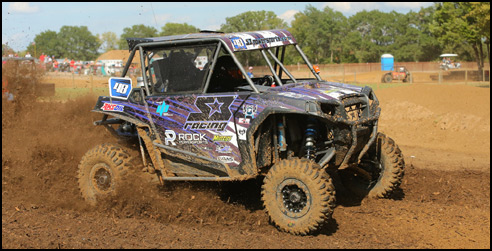 Cody Taylor took over the lead just before the NASCAR style caution restart & he held the lead to the checkered flag for the win
On lap nine, Taylor laid down the fastest lap of the race, a quick 01:25.322. He continued his charge and took the win by an impressive 11.187. "I had a good battle with Moore, but I think my car out handled his and I could take the turns better. I had a lot of fun; the track was really rough and you had to pay attention. I got a little worried when they threw the caution, but I just put the hammer down and wanted the win," said Taylor.
Curtis Kirchmeier claimed second in the SxS race. Kirchmeier grabbed the early lead and led the first lap. He dropped to third on lap two and then to sixth on lap nine. Despite the setbacks, he rallied and began to pick off the pack in the latter half of the race. He was in third on lap 13 and was able to overtake the second spot on the final lap.
Curtis Kirchmeier claimed the second spot on the podium in his stripped down Polaris RZR 800 S
"This was a great race. The rolling start was really cool and the track was pretty nice. My Polaris RZR 800 worked amazing and I need to thank Answer and MSR for helping me out," regarded Kirchmeier.
::CONTINUED::