ATV Pro Challenge Motocross
in Memory of Caleb Moore
Underground MX
October 5, 2013

Chad Wienen Sweeps the 2013 ATV Pro Challenge Motocross
Joel Hetrick & Josh Upperman Round out the Pro ATV MX Podium

2013 ATV Pro Challenge MX
in Memory of Caleb Moore
Kemp, TX (10/6/2013) – Professional racers from all over the United States descended on Underground MX in Kemp, Texas for the biggest motocross showdown to date. The event was held in memory of the late Caleb Moore and featured the largest motocross payout ever, a whopping $30,000. Yamaha's Chad Wienen dominated the racing action and took three wins to earn the title of ATV Pro Challenge Champion. Joel Hetrick and Josh Upperman took second and third respectably.
2013 ATV Pro Challenge Motocross Podium (left to right)
Josh Upperman (3rd), Chad Wienen (1st), Joel Hetrick (2nd)
The three moto style race tested the races skills and endurance as the motos were held about an hour apart and were all ran Saturday afternoon. The sand / clay track was mostly flat, but boasted two large table top / triple jumps that catapulted racers nearly 100'.
| | |
| --- | --- |
| | |
| Josh Creamer is recoverying from knee surgery, so he spent the weekend announcing along side of David Screws | On Friday night, there was a free meal of pork chop, rice, and beans dinner, which had Josh Upperman grabbing a plate |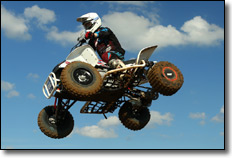 #88 Joel Hetrick was the fastest qualifer on Friday with a time of 1:51.106

Racers began their weekend with the Pro Qualifying Friday afternoon. Corrosion Specialties' Joel Hetrick laid down the fastest qualifier with a time of 1:51.106. He was closely followed by Maxxis Tires' Chad Wienen who clocked a 1:51.258.

The three motos on Saturday were held at 3:15, 4:35 and 5:55 and Chad Wienen showed that it doesn't matter what time you race, how long the race is or how much rest you get in between; the two time AMA ATV Pro Motocross Champion took to the track like clockwork and laid out an impressive three wins to sweep the event.
Josh Upperman grabbed the Holeshot in Moto One
In moto one, Wienen got off the line in good position and was in third at the end of the first lap. He moved into second on lap two where he remained until he took over the lead on lap four. Despite a lot of pressure from behind, Wienen held the lead and took the checkers by a close 00.997. Moto two went even better for the AMA champ; he had a great start and took the lead on the first lap. He held it all the way to the checkers and won by 03.538.
In the first two motos, Chad Wienen made quick work of Josh Upperman to take over the lead, which he held to the checkered flag for the win each moto