ATV MX Championship
Muddy Creek Raceway
Blountville, TN
June 3-4, 2017
Muddy Creek Raceway Amateur ATV Motocross Report
Blountville, TN (6/15/2017) - The 2017 AMA ATV Motocross National Championship moved to Blountville, TN for round five of the series. Racing was held at Muddy Creek Raceway where amateur racers from around the country gathered for another weekend of great ATV racing.

Pro Am was once again the class to watch. Fans lined the fences as these top amateur racers took to the track. Westley Wolfe was able to defeat the previously unbeatable Parker Wewerka and take the overall win with 1-2 moto finishes. Wolfe was on a mission in the first moto, putting down the fastest time of the class and taking the win by over eleven seconds. Wolfe backed it up with a solid second place finish in moto two in order to claim the top spot on the podium.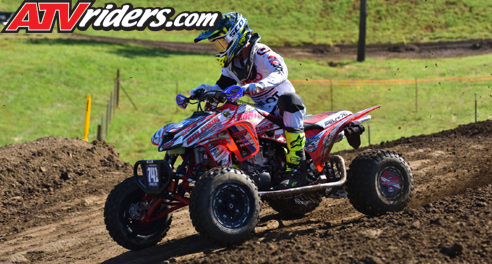 #741 Westley Wolfe
Second place overall was Parker Wewerka, who experiences some issues in the first moto. Wewerka had his work cut out for him after coming around in 15th place on the first lap, but by the end of the moto Wewerka worked his way all the way up to seventh place. In moto two, Wewerka quickly moved into the lead and ran away with the moto win by an incredible 28 seconds to salvage second place overall, and maintain the points lead.
#9 Parker Wewerka
David Solecki out of Ontario rode his Honda to third place overall with 4-4 moto finishes in Pro Am. This was Solecki's first Pro Am podium of the season and he moved into fourth place in the championship points.
#26 David Solecki
To no ones surprise, it was the Mickelson brothers up front in the Pro Sport class. Noah Mickelson dominated the class by winning his heat race and battling to a second moto win for a perfect 1-1 finish. Haedyn Mickelson was up front in his heat race and took the win just like his brother, however Haedyn experienced some issues in moto two where he took tenth for fifth place overall.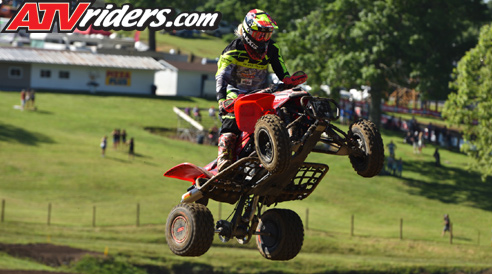 #135 Haedyn Mickelson
David Solecki, who took a Pro Am podium, added to his great weekend by taking second overall in Pro Sport. Solecki put in strong 2-2 heat race and second moto finishes for a very respectable second place overall finish.
Rounding out the Pro Sport podium in third place was Peyton Zimmerman with strong and consistent 2-3 moto finishes. Zimmerman is now ranked fourth in the championship points.
#721 Peyton Zimmerman
The WMX class saw the return of Kelsey Dyer to the podium. Dyer seemed to have everything in tune and went 3-1 for first overall, claiming her first win of the season.
Second place went to Kiersten Keane with consistent 2-2 moto finishes. Keane also competes in the Schoolgirl class, where she took the win. Keane is leading both classes in the championship points and is on the hunt for a double national championship titles.
Michelle Jenkins came out strong in the first moto of WMX with the win. A fifth in moto two would place her in third overall.
In 450 A, it was once again Noah Mickelson up front with perfect 1-1 moto finishes for first overall. "I had an awesome weekend and ended up going 1-1 in both my classes. I couldn't have asked for a better weekend! I can't thank the Maxxis/Liquid Wrench/Elka/Honda team enough for all the support," stated Mickelson.
Second place was Sebastian Molina with his best finish of the season. Molina clinched second place in each 450 A moto.
Tommy Vossman out of Houston, Texas finished in third place overall with 3-3 moto finishes for his best weekend of the season. Vossman also grabbed a second place finish in Production A. "We made some solid advances in the points race and are going to work hard before Sunset Ridge. Thanks to the team and all of our supporters," stated Vossman.
In Open B, Brandon O Neill put in a dominating ride, winning both motos for the coveted first place overall position and is ranked third in the championship points race.
Ty Hudson finished up second overall with two second place finishes and Devon Kindrick was the final rider to battle it out for an Open B podium position. Kindrick rode his Honda to two fourth place finishes for third overall.
In Production C, Gage Scaletti out of New Jersey managed to grab the overall win with two moto wins. Scaletti has won the last three rounds and is leading the points for the national championship.
Austin Fleming took two third place moto finishes for a second overall in Production C, and Larry Kindrick rounded out the podium with third overall.
The 2017 AMA ATV Motocross National Championship will next head to Sunset Ridge MX in Walnut, IL on June 17-18th for the sixth round of the series.