2016 AMA ATV Motocross
Round #8 Spring Creek MX
Millville, MN
July 2, 2016

Chad Wienen Takes Spring Creeks Pro ATV MX Win
Pro ATV Motocross - Spring Creek - Round 8
2016 AMA ATV Motocross
Round 8 - Links
Millville, MN (7/2/2016) – Round eight of the 2016 Pro AMA ATV Motocross National Championship was held at Spring Creek MX in Millville, MN. Everything fell into place for current points leader, Chad Wienen, as he took the overall win. Joel Hetrick put in strong ride for second and David Haagsma rounded out the Pro podium in third.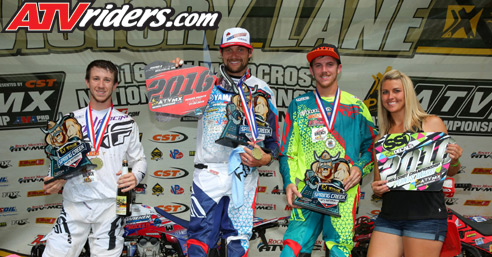 Spring Creek - Round 8 - Pro ATV Motocross Podium (left to right)
Joel Hetrick (2nd), Chad Wienen (1st), David Haagsma Jr (3rd)
The weather was spectacular and the track looked even better, making for a perfect day of Pro ATV motocross racing. Spring Creek is known for its big air jumps and rough, sandy whoop section, which has always worked in Wienen's favor. Wienen has never lost a race at Spring Creek as long as it has been on the schedule.
FOX's Chad Wienen charged into 2nd place in Moto One, but he was not able to close the gap on Joel Hetrick out front
"The first moto I hooked up a little hard off the start and popped a little wheelie. I had to battle with the riders in front me. I worked my way through and had to settle for second," stated Wienen.
Things went better in moto two, where Wienen ripped the holeshot and never looked back, taking the moto and overall win. "We got the holeshot and were clicking off great lines all moto. We were killing that roller section in the back, that is my favorite part of the track here. It is so technical and tough. Joel Hetrick rode a great race, he was pushing me along in the beginning but I dug deep today," explained Wienen.
Maxxis' #1 Chad Wienen grabbed the Moto 2 Holeshot with Joel Hetrick in chase
With many years of experience, Wienen knows how to ride smart and consistent, which is key to his current 22 point lead for the championship. "We have to be consistent and pick our battles. We know when to go and when to tone it down," said Wienen.
Chad Wienen celebrated his win with huge gathering of family & friends that made the trip up north to Minnesota
ATVriders.com Fastest Qualifier award winner and second place overall finisher was Joel Hetrick. In moto one, Hetrick dominated the rest of the competition with a holeshot and comfortable win. Second moto, Hetrick salvaged a second and saved himself from losing any points.
Maxxis / ELKA's Joel Hetrick claimed the ATVriders.com Fastest Qualifier Award at Spring Creek MX
"Second moto was pretty rough. I just battled with the roller section. I did what I could and played it safe today. Wienen rode awesome. He was putting a hurting on me during the roller section. I tried to pick it up on the other side but I just could not do it today," said Hetrick.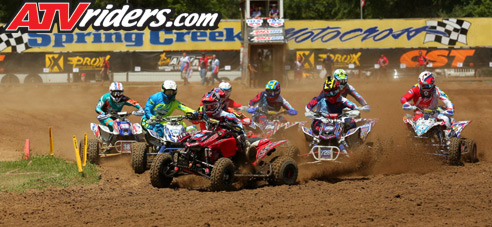 DASA Racing's Joel Hetrick grabbed the Moto One Holeshot
::CONTINUED::